Top Ten Tips To Help You Sell A House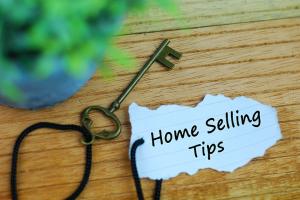 Top Ten Tips To Help You Sell A House
After moving 3 times, Jess Soothill has decided to share her top tips to help you successfully sell your old home, so you can buy a new one.
"My husband and I have moved 3 times in 10 years. Our current home (our third move) was to a new-build home and we wanted this one to be a long-term move.
Selling a house has been more difficult since we had our children. Opening up our family home for people to view AND keeping it looking like a show-home all the time has been extremely challenging. But it is important to do this to ensure that it sells."
Here are Jess' 10 top tips for selling a home:
1. Asking Price
If your home isn't selling, or you aren't getting enough people through the door for a viewing, then perhaps it is overpriced. Dropping the price into the next price bracket could attract more viewings and hopefully secure you your important sale.
2. Estate Agent
It is important to find the right estate agent/online website in order to market your property. If one method isn't working then try something else. Don't be afraid of doing some research and a little work yourself.
3. Lighting
Poor lighting can make a home appear dull and uninviting, and might put potential buyers off. Making your home light and bright will make it feel like an inviting space and welcoming to possible buyers. You can do this by changing light fittings or painting the walls neutral colours such as cream or white.
4. Kerb Appeal
One of the big factors for selling a house is how appealing it looks on the outside. First impressions do count. Your kerb is the first point the buyer will see. If it's below expectations it can affect the buyer's opinion going into the rest of the house. Make sure the windows are clean, the lawn/garden is neat and there are no unwanted objects by the front door. Pots of flowers or a lick of paint on the front door will make it look attractive and inviting.
5. House Viewings
Really show off the best bits of your home! Tell them all the great reasons you like living there and be upbeat and friendly.
6. Cleanliness
It sounds really obvious but many people just don't tidy up before a viewing! Whilst you are trying to sell your home keep it clean and clutter free. Box up anything that cannot be tidied away and put it into the garage or into storage; making your home look more spacious will help to sell it.
7. Schooling
For buyers with children they'll expect decent primary and secondary schools to be nearby. If there are good ones then make sure you include it in your listing and dialogue when doing a viewing.
8. Children & Pets
When we've had a viewing either my husband or myself has taken the twins for a walk or out to the park. It makes the viewer comfortable that they aren't intruding on your family life, and gives them space to view the rooms.
9. Timing
Seasonally there are good and bad times to sell a property (the summer being better than the winter) so ensure you've chosen the correct period.
10. Photography
The images taken of your home for the listing should show the best rooms and areas of your home…if they don't, do them again! Getting people through the door to view your home is key and so this aspect needs to be just right.