5 Ways To Boost Your Deposit Savings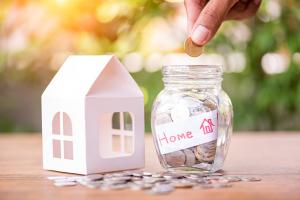 5 Ways To Boost Your Deposit Savings
Saving for your first deposit can seem like a daunting task. You are probably looking to save as much as you can to make your monthly repayments affordable, but with Help to Buy you could get a mortgage with as little as a 5% deposit.
Putting aside an affordable percentage of your salary each month is a simple way to save. By setting up a standing order to leave your account on the day you get paid is the best way to avoid spending it on other things. From what is left at the end of the month, you could decide to transfer more into your savings account.
To help boost your savings, you can make a few small changes to save some extra pennies each month, and get started on your new home journey even sooner!
Get Cashback On Your Bills Or Online Shopping
Reward Bank Accounts
Many bank accounts offer cashback on your monthly bills or purchases. Shop around for the best incentives, but beware you may need to pay a monthly fee, so make sure the money you'll get back is more than the cost of the account.
Cashback Websites
If you're a regular online shopper, you can sign up to cashback websites to earn money back when you make a purchase. Just make sure you shop via the cashback website to earn your reward.
Open a Help to Buy ISA
By saving money into a Help to Buy ISA, the Government will add to what you save by 25%. For every £200 you deposit into the ISA, you will get a £50 bonus from the government, up to a maximum bonus of £3,000. There are a range of Help to Buy ISA's available from most banks and building societies. Find out more about this scheme, and calculate your bonus at https://www.helptobuy.gov.uk/help-to-buy-isa/how-does-it-work/
Get Deals On Your Everyday Purchases
Be in the Know
Review the latest deals on everything from energy, fashion, credit cards and insurance through a money saving comparison website. One of the most well-known sites is Money Saving Expert - you can sign up for their weekly email digest delivered direct to your inbox. Their tips and advice could prove helpful when looking to save on your everyday purchases and utilities.
Be Careful at the Supermarket
You can cut pounds off your food bill every week by simply buying only what you need. Buying pre-packed fruit and vegetables will inevitably cost you more than buying only what you need from loose produce. Switch to own-label brands to save on cupboard essentials too.
Another way to save on your food shop is to buy groceries online - you can view and choose the cheapest brand to avoid unnecessary spend, take advantage of special offers and stick to a budget as it totals up your basket as you go. Be aware that you'll probably need to pay for delivery but this should only be a couple of pounds - and you won't need to drive to the shop! Don't forget to add your loyalty card number to your grocery account to get your points and vouchers.
Sign Up to Loyalty Cards
Loyalty cards for your favourite shops can prove useful when saving money. If you're planning on keeping your spending to a minimum at the end of the month for instance, why not buy your daily coffee with your existing points or use a money-off voucher at your regular supermarket. You don't have to be loyal to just one supermarket either - make sure you shop around for the best deals, just remember to swipe your loyalty card at each store. To ensure you don't forget to take your card (and make room in your wallet) you can download loyalty cards as apps and even add them to your digital wallet and scan them from your phone.
Take Your Own Cup
Many coffee shops offer a discount for taking your own cup in to store. This could save anything from 25p to 50p per coffee - it all adds up!
Sell Your Old Stuff
Chances are you have a cupboard full of things you don't use anymore… so why not turn it into cash? There are plenty of websites to list your fare, from ebay to Gumtree to Facebook marketplace.
If you can't bear to part with your things - why not scout out some bargains in a charity shop and resell online. But beware… you'll need to do your research beforehand as to what can sell. Ask friends who have done this successfully and look up what other items are for sale and for what price before you start - you don't want to spend money on something you don't want which won't sell.
Ditch the Car!
This seems like an obvious one, but avoid making car journeys if you really don't have to! Can you walk to the shop? Can you cycle to your friend's house? A short journey may not cost much in the way of fuel but by using your car less often, you won't have to fill up your tank as frequently.
You can make other savings on your motoring by ensuring you use comparison sites every time your insurance is up for renewal - you can often save tens of pounds each year by shopping around.
When you do fill up the fuel in your car - make sure you do so at a garage where you can get points on what you're spending. Many supermarkets accept loyalty cards in their garages so you can enjoy money off your groceries at a later date.
Get Saving!
By making a few small changes to your spending, you'll be able to put a little more aside each month towards your dream new home. It could be that you use this extra cash to furnish it or towards fees. Don't forget to register with New Homes For Sale to find your perfect new home.
New Homes For Sale is not a financial expert and does not endorse any financial products. This article is for marketing purposes only and should not be considered official advice. Please consult a financial advisor or your bank for any guidance on saving for a mortgage.