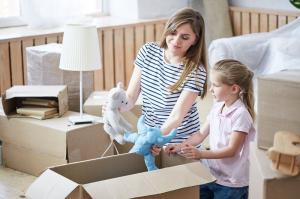 6 Tips On Moving House With Children
At the time of moving to our new build home, our twins were only 2-years-old and daily life was busy enough as it was! The prospect of moving house (over 100+ miles away) as a family made me feel rather apprehensive indeed.
However, we did it, and the move to our new build home went extremely well and we had such a good experience. So here are my top tips for selling and moving home when you have a family so you can make the move smooth and hassle free for everyone involved!
De-Clutter
Before you decide to put your house on the market have a really good tidy up/sort through all your possessions – throw away anything that is broken and give away things to charity that you don't use anymore. Try to minimalise toys, games and clothes so that when you have viewings the house looks at its best and doesn't appear too cluttered or chaotic. This will also make it easier to move with fewer items to box up once you're sold and ready to go.
Viewings
When you have viewings try to get one parent to take the children out to the park or for a walk (if possible). In our experience it makes the viewer more comfortable that they aren't intruding on your family life, and gives them the space they need to view the rooms.
Schooling
Getting the right school is often a driving force in a house move, or a very important consideration. So before you decide to move do your research on schools in your preferred areas. Look at Ofsted reports online and go onto the school website itself for more information.
It is also a good idea to go into the school and get a feel for it, meeting the head teacher too, as often reports can only give you so much information. Catchment areas can be complex, so do your investigation into these with the local council and confirm it all before you make any decisions.
Be Informed
Make a list of exactly what you want from the move – schools, work, commute, house type etc and then you'll be better informed when going to view homes. In my experience children find house viewing rather boring indeed! So keep it to a minimum and try to be flexible.
Moving Day
When we moved the twins and myself went to stay at my parents for a few days whilst my husband organised the move, removal company and all the administration. This meant that everyone involved could get on with his or her jobs without any hassle. It also made it really exciting to drive to our new home and see all of our things in it!
Settling In
Any change can be tense, particularly for children. A new bedroom can feel strange. Make sure their beds, toys and furniture are ready for their first night, and make their room look and feel as comfortable as possible. That way they will feel more at home and less worried about their new surroundings.
Children are actually pretty resilient and we found that our twins were fantastic at coping with the upheaval and all the change. They are both incredibly happy in our new home and have made so many lovely new friends.