7 myths about buying a new build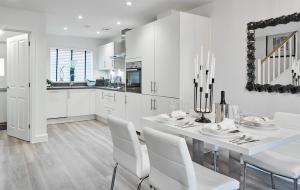 7 myths about buying a new build
Whether new build or existing is right for you will depend on your circumstances, but this doesn't stop some myths about new builds circulating.

Myth 1: New Build Homes Cost More

You will find a wide range of options available when buying a new build so it is simply not accurate to say a new build home costs more. In addition, you can't directly compare a four-bedroom existing property with a four-bedroom new build without considering the additional costs associated with buying an existing property. These include renovation costs, decorating costs, and the cost of repairs over the initial years of ownership.

In addition, there are schemes available that make purchasing a new build home more affordable than buying an existing property. This includes the Government's Help to Buy scheme among others. Schemes like this are only available when you buy a new build home.

Myth 2: New Build Homes Have Less Space

Again, you will find a wide range of new build home options so it is overly simplistic to say a new build home has less space. Also, having a smaller floor area does not mean you have less space. Many older homes were very poorly designed and are not suited to modern living. New build homes, on the other hand, use space effectively so give you more useable space to live in.

Myth 3: New Build Homes Have Less Storage

New build homes include many features that answer the storage space question. This includes laundry rooms and effectively-designed cupboard space. So, new build homes have storage space too.

Myth 4: There Isn't Much Choice

There are more existing homes for sale on the property market than new build homes but that doesn't mean you don't have choice. There are new build home developments in all regions of the country and you can find all styles of home from one-bedroom apartments to five-plus bedroom family homes, as well as everything between.

Myth 5: It's Too Hard to Qualify for the Help to Buy Scheme

Some people who want to buy a new build home are put off because of the misconception that the Help to Buy scheme is hard to qualify for. The facts say different, though. So long as the home you are buying is £600,000 or less, the Help to Buy Scheme is available to you.

Myth 6: It's Hard to Sell a New Build Quickly

Whether a new build home is hard to sell soon after buying depends on a range of factors. In addition, these factors apply to existing homes as much as they do to new build homes. In most cases, how easy a home is to sell is down to market conditions, regardless of whether it is a new build or not.

Myth 7: New Build Homes Are in Middle-of-Nowhere Locations

This one isn't true either. The reality is new build homes are in a wide range of different locations from city centres and towns to rural and semi-rural areas. In addition, local amenities and transport links are a top priority for all developers as they understand the importance of these things to buyers.

Buying a new build home is different to buying an existing home. That said, the most commonly held myths don't hold up under scrutiny whenever you consider all the factors. This makes new build homes a viable option for almost all home buyers.