A Good Conservatory Can Add Value To Your Home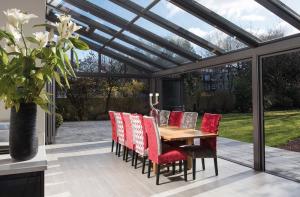 A Good Conservatory Can Add Value To Your Home
A good conservatory can add value to your home but beware of the bad and the ugly, says property journalist Sharon Dale. Conservatories get a bad rap and deservedly so.
There are so many poor and ugly examples out there, including the one my friend Karen inherited when she bought her three-bed semi. It's a white, uPVC carbuncle that is best described as a stuffy, sweltering greenhouse in summer. The rest of the year it is cold, damp and dappled with black mould.
The good news is that standards seem to be improving thanks to the top end of the market, which is driving a change in both style and materials.
The Caulfield Company has some good examples of how you can create a useable space with large amounts of glazing. It specialises in bespoke glass buildings with state-of-the-art thermal performance. They come with automated shading and temperature control operated through built-in weather stations. This is tried-and-tested smart technology, widely used in big commercial buildings.
Bespoke glass rooms like this from The Caulfield Company boast their own weather station controls. The weather station controls an external awning and electronic roof vents, opening and closing them in response to weather conditions.
Mark Caulfield says: "This is far more effective than internal shading. The external awning acts as a physical barrier to heat entering the building, making it just as comfortable on a hot summer's day as in the depths of winter."
He adds: "These new buildings overcome the problems of heat and light control inherent in traditional-style conservatories. They are the perfect answer to Britain's always unpredictable climate."
Prices start from £45,000. At the lower end of the market, off the-peg conservatories start at about £5,000 but shop around and beware of pushy salespeople. Before you buy, consider how you will keep this space cool in summer and warm in winter.
If you have a fully glazed conservatory blinds like these from Hillarys are useful
Pleated conservatory blinds by Thomas Sanderson
Electric underfloor heating and plug-in panel heaters are expensive to run but are an option. Blinds will help shade the sun, although they will also block your view of the garden so make sure they are decorative and not dull.
Personally, I'd go for a cross between a conservatory and an extension – I'm calling it a garden room.
The construction would be timber framed and insulated side walls clad in either stone, brick or wood. The frontage would be fully-glazed and the roof either flat or pitched with Velux windows or a glazed lantern. The cost for something like this would be from £15,000 to £20,000. However, it would be useable all-year round and could function as an extra sitting room.
This brings us to cost benefit analysis. It is vital to work out exactly how much the conservatory or garden room will cost and then question how much value it will add to your property and how much use you will get out of it.
A rough guide is that a conservatory adds about seven per cent to the value, while a full-blown extension adds 11 per cent. However, if you create extra space that is useable all-year round and it has wow factor inside and out, with lovely views into the garden, this could add even more and it will certainly render your property much more saleable.
Planning permission isn't usually a problem for conservatories as they are considered "permitted development" but do check as there are exceptions.
A more substantial garden room extension may also come under permitted development but this depends on previous extensions. Again it is vital to check before going ahead. As for décor, check out my new favourite website, Mia Fleur, for ideas. It has a great garden décor section with furniture and accessories that work both inside and out.
Macrame hanger and plant pots from Mia Fleur