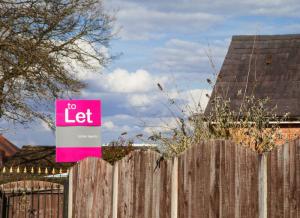 A Good Letting Agent Can Ease The Pain Of Being A Landlord
After seven long and eventful years of co-owning a buy-to let house with my parents and managing it myself, I decided to hire a letting agent. I'd resisted it, telling myself that I could easily do the job myself while saving the 12 per cent commission charged by most agents.
I did do the job but it wasn't easy, far from it. For a start, it's now very difficult to find a tenant because very few of them scour the local paper for places to rent. That used to be the norm. Now placing an ad in the paper is a waste of time unless the publication has a great website that promotes homes to rent (few do). Most people look on property portals and you can't advertise on them unless you are a registered agent.
It's also awkward when you show tenants round and they know you are the owner. If their credit history and references don't check out, you have to inform them. You might, as I have done, fall soft when confronted with tales of woe. I lived to regret it twice, though I also found the best tenant I ever had by ignoring her dire credit history and going with my gut instinct.
The worst thing by far about managing a let are the phone calls in the dead of night, while you are on holiday and on Christmas Eve. It's your job to find a plumber/electrician/joiner and organise repairs pronto.
After a particularly trying few months as a hands-on landlord, I caved in and found a letting agent. It's been well worth the expense; a £210 initial set-up fee, 12 per cent commission on the rental income and a £120 re-marketing fee when a tenant leaves. They inform me of issues but they will sort out repairs and suggest solutions.
Before I hired them I checked them out because bad letting agents can spell misery for tenants and for landlords. Here are some tips on how to make sure you have a good letting agent.
Choose a letting agent who is a member of the National Approved Letting Scheme or one of the organisations that support it. These include ARLA, the Association of Residential Letting Agents; The RICS, Royal Institution of Chartered Surveyors; The NAEA, National Association of Estate Agents.
Things to Consider When Choosing an Estate Agent
It is vital to make sure that they are registered with a Property Redress Scheme - these are The Property Ombudsman, Ombudsman Services and the Property Redress Scheme, and it's even more important to make sure that they have indemnity insurance, which will cover them if they are sued and client money protection. There have been a number of cases where letting agents have gone out of business/disappeared with landlords' rents and with tenancy deposits that should have been placed with a government-backed scheme. Client money protection is a compensation scheme run by Propertymark, which provides compensation to landlords and tenants should an agent misappropriate their rent, deposit or other funds.
Word of mouth is useful. Ask anyone and everyone you know if they have had any dealings with the agency, either as tenant or a landlord. My last tenant sent the agency a lovely thank you letter, which confirmed my faith in their ability to look after tenants.
Look at their marketing. Are the brochures well written and are the pictures good enough? Do they advertise on a property portal and is their website up to scratch?
Before you sign, check the contract very carefully. Watch out for clauses that insist you give a long notice period before leaving them, administration charges and costs for advertising for a new tenant. There can be lots of little costs that add up.
Make sure the agent arranges the annual gas safety check on the property, which must be carried out by law.
Don't necessarily go with the cheapest letting agent. Go for one with the best qualifications and a good reputation and make sure they know the area well. Local knowledge is vital.