A Guide To Decorating Your First Home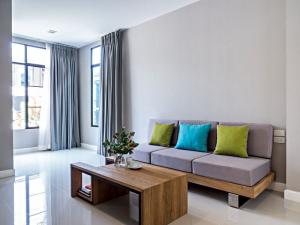 A Guide To Decorating Your First Home
If you have just purchased your first home, the chances are that you don't have much money left to decorate it with. Not only do you have a small budget, it's also an incredibly daunting task. You've probably just moved out of your parent's home or a rented flat where you couldn't paint the walls, and now, all of a sudden, you have a whole house to decorate. Don't fear, just follow these simple tips!
Budgeting
Shopping for furniture and accessories for your new home is very exciting, and it can be easy to get carried away. You have a budget, but before you know it, you've spent it all in IKEA and the Primark homeware section, because everything was just so hard to resist. For that reason, we highly recommend that you have a budget and you stick to it. Shop around and search for deals, and if you have any money left over, you can gladly splurge on those things you want, rather than need.
Make Lists
Don't go off shopping without making a list; you could end up spending your entire budget and only buying half of what you need. Write down everything that you currently own and everything that you need, with a wish list of anything that you would like to own in the future. As a result, you'll go shopping with a clear head.
Know Your Room Dimensions
This might seem obvious, but it can be easy to fall in love with a sofa, only to discover when it gets delivered that it doesn't fit in the room. You should always measure the dimensions of your room, as well as the doors and corridors to ensure that you will be able to get the furniture into your home.
Opt For a Neutral Palette
Neutral is always a great choice of colour scheme for your first home. Keeping it simple with white, black and wooden tones always works. If you think it's too plain for you, just add small elements of colour such as cushions and rugs.
Start With Paint
Paint is one of the easiest and most affordable ways to transform your home. You can paint walls or even furniture. Have you got a chair from your old home that you love, but it doesn't fit in with your new colour scheme? Paint the legs! Don't be afraid to experiment with different colours and finishes.
Don't Skimp On Pieces Of Furniture That You'll Have Forever
It can be very tempting to purchase the cheapest sofa to 'tide you over', but that sofa could be with you for years to come. Admittedly, it might not stay in the living room, but it could be passed on to bedrooms, recreational rooms and on to your children when they move out. For that reason, don't skimp on pieces of furniture that you could have forever.
Lighting
After you've bought the important pieces of furniture, take time to consider lighting. In rented flats, the chances are that you won't be able to change the lighting, so in your first home you have the ability to install new fixtures and play around with mood lighting. Don't forget to hire an electrician!
Not Everything Has To Match
It can be easy to fall into the 'matching range' trap. Shops will convince you that everything has to match, particularly in your bedroom and living room. This simply isn't the case – instead, shop around for items that complement each other. It looks much less old-fashioned!
Simple Upgrades To Kitchen / Bathroom
Renovating your kitchen or bathroom is bound to be the most costly aspect of decorating your home. As you probably won't have much money, consider making small upgrades instead. Changing the taps on your sink doesn't cost much and neither does adapting the backsplash in the kitchen or painting the cabinets.
One Room At a time
As you would with a project, break it down into manageable sections; one room at a time. It can be so costly and overwhelming to try and do them all at once, so start with the ones where you spend the most time – the bedroom is a great place to begin.
Live With As Little As Possible
You might not have a lot when you first move in, but over the years as you gradually acquire more stuff, you'll start to miss the minimalism. Instead of buying everything you see, make careful decisions – sit on smaller purchases for a few weeks, and if you still want them, make room in your budget for them.
Embrace Second-Hand and Hand-Me-Downs
When you move out, your family and friends will probably rush to give you their hand me downs, that they're most likely desperate to get rid of. However, you shouldn't discount them straightaway – can you transform them with some paint or accessories? If so, welcome them!
Have Fun When You Decorate Your First Home!
The chances are that it won't be the last home you ever live in, so don't be afraid to experiment.
This article was kindly provided by Light Supplier.