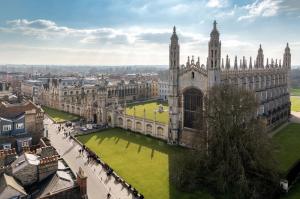 The Best Places To Live In Cambridge
Cambridge is a city of culture and beauty, characterised by a strong professional community which really comes as no surprise - after all, it's home to one of the top universities in the world.
The city offers great schools, brilliant travel connections as well as picturesque good looks and all the charm of a small country village. It's also home to a number of great pubs which is always a plus, especially if you enjoy a pub lunch with your friends!
Here are some of the best places to buy a new home in Cambridge.
Grantchester
Grantchester is based just outside the centre of the city. It is a beautiful picturesque village and often the first choice for a day out if you're living in the city itself. But why visit when you can live in the beautiful surroundings of Grantchester and take a walk by the Grantchester Meadows and watch the Cambridge canoe club practice? There are basic shops here too and three pubs to choose from for an afternoon pint, but with Cambridge so close by everything you need is right on the doorstep.
With it being so close to Cambridge and having such beautiful scenery, it comes as no surprise that the average house prices in the area are a hefty £675,208.
Ely
In the shadow of Cambridge just 14 miles away, Ely is the second smallest city in the UK.
The compact city offers so much to those living there, mixing city life with a strong community feel. Ely offers all the needed amenities and more, with a farmers market every second and fourth Saturday of the month and also a regular Thursday general market and Saturday craft and collectible market, all which create a buzz in the city.
If Cambridge is out of your budget Ely may be the one for you, with an average house price of £295,160
St Ives
St Ives is located on the Great Ouse river. It is a town full of essential amenities, independent shops and a handful of cafes and restaurants, and also holds regular markets and other events to keep you busy throughout the year. The original historic character is also still visible and retained throughout the town.
Average house prices here are £272,837
Trumpington
Trumpington is a very short journey to Cambridge city centre and it offers the double benefits of living close to the city as well as enjoying the charming peaceful village lifestyle. With a choice of local shops and Great Shelford nearby for all the extra amenities you may need, Trumpington is well appointed for modern family living. There are plenty of options when it comes to sporting activities too, with a tennis centre and Golf club in the area.
Average House prices are £604,933