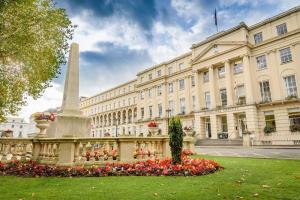 The Best Places To Live In Cheltenham
Cheltenham has developed from a small market town, to one of the most beautiful, popular and fashionable spa locations in the country. Despite development, it has always stayed true to its original roots, maintaining its popular charm and rich culture. This alongside beautiful architecture and luscious greenery (of which one the best examples is the Promenade, which has a range of stylish shops, restaurants, and cafés) make it clear to see why people want to move to Cheltenham.
There is plenty going on throughout the year as well, with no less than four theatres hosting a selection of performances including music, plays, and comedy sessions. It is also home to one of the best known horse racecourses in the world, and hosts the popular Cheltenham Festival.
Cheltenham is big enough to supply all the amenities you may need, but small enough to maintain a community feel. It is at the edge of the Cotswolds, which offer plenty of scenic walks and day outs. It was also previously voted best place to raise a family, so if you want to give your children and exciting childhood and a great education, Cheltenham should be at the top of your list!
Tivoli
If you are wanting to stay very close to the centre, Tivoli might just be the one for you. It's located just a 15 minute walk away from the centre and has all the beauty of Cheltenham, with plenty of period terrace houses paired with larger regency homes. It's also close to Bath Road, which offers a row of shops and excellent pubs and nearby Montpellier is right on your doorstep.
Average house prices in Tivoli are approximately £328,091.
Leckhampton
Leckhampton has become a go-to location for families who want plenty of choice when it comes to spacious homes and great schools. It covers a large portion of south Cheltenham. You are able to access all the local amenities easily on foot, as they are all within walking distance and the popular Bath Road is very close by too, offering a choice of shops and restaurants. With a wide range of walks and beautiful scenery available with Leckhampton Hill and Charlton Kings Common which is just a short walk away, Leckhampton is the perfect balance between town and country.
Average house prices in Leckhampton are around £408,271.
Charlton Kings
Charlton Kings is similar to Leckhampton in that it takes up a large portion of the Cheltenham area, although it is a little further out of the city centre. However, it still offers a great choice of homes and the area is highly sought after, especially if you're interested in the chance for your children to attend the Balcarras School, which regularly attains superb reviews and results. With London Road offering a choice of shops and cafés and the local Co-operative offering all the essentials, Charlton Kings is a great place to buy a brand new home.
Average house prices in Charlton Kings are around £423,408.
Prestbury
Prestbury is on the edge of Cheltenham which gives it a lovely village atmosphere making for a relaxed lifestyle. It offers a great choice of properties and it boasts great pubs and small independent shops. It is also the home of the Cheltenham Racecourse.
Average house prices in Prestbury are approximately £347,316.