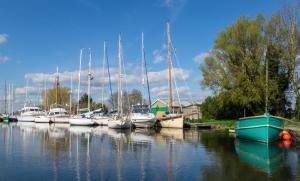 The Best Places To Live In Exeter
Exeter is a city that still holds itself as being community driven, with a congenial feeling running through it. Being nestled in the picturesque surroundings of Devon, you can live a city life whilst still having plenty of options for taking a weekend break to one of the stunning south Devon beaches or the expanses of Dartmoor or Exmoor. The city also offers great shopping and a lively food and drink scenes that will keep you more than satisfied!
Credition
Credition sits between Dartmoor and Exmoor National Parks, surrounded by uninterrupted natural beauty. The town has been a market town through its history and still has a market every first Saturday of the month. It also has plenty of amazing choices when it comes to restaurants. Perfect for those who are raising a family with a good choice of schools, it is also a convenient 25 min drive to the centre of Exeter.
Average house prices are £288,643
Cullompton
Cullompton is a peaceful town located in the tranquil Culm Valley. With all the local amenities needed in this quiet town, it is the perfect place for those who enjoy a slower pace of life. With a choice of markets in the town including the award-winning farmers market and the chance to walk out of the town and find yourself surrounded by beautiful scenery, it's no surprise this is one of Exeter's best places to live.
Average house prices are £266,424
Topsham
If you want to be close to Exeter but can't decide between the country and the coast, Topsham is for you. It is the start of the coastal line and the end of the countryside. At one point in it's history the town was a commercial port and although the industry is no longer centred here, the town still has a charming maritime feeling.
Average house prices are £402,525
St Leonards  
If you're wanting to live within the city, St Leonards is the number one choice and is a popular option for professionals and families alike. It has a great choice of restaurants, cafés and shops and the city centre is just a 15 minute walk away, meaning you'll have everything you could ever need!
Average house prices are £346,541