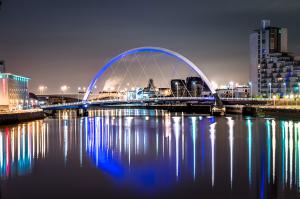 Best Places To Live in Glasgow
Glasgow is often overlooked due to those who have a misconception that it's a grey city which is dominated by ugly high-rise flat blocks, this is far from the truth. Glasgow for many years has become a highly suggested destination, as more people discover how wonderful it is.
The city has so much going for it, it's extremely lively with a very strong music community, a vibrant nightlife, plenty of great restaurants and cafés to pick from and a wide choice of art collections that are worth visiting just for them. There is also a great shopping scene, with a great mix of things to keep yourself busy and offers everything you will ever need. Not only does it offer all this, but it does it in the surrounding of beautiful Victorian architecture. Another great thing about Glasgow is that you don't need to go too far out of the city to see the countryside with beautiful parks and walkways along the river Kelvin all offering plenty of green space to give you a break from the hustle and bustle of the city.
Paisely
Paisley is one of Scotland's largest towns offering beautiful architecture and greenery through the town similar to Glasgow, but it has a slower relaxed pace of life, which could be great for those who work in the city but need a break. Not only is it one of the largest towns in Scotland but remains mainly unspoilt like many towns across the rest of the UK. It's a great location for those who need to be commuting to Glasgow with a short 10 minute train journey or a 30 minute drive. It is the main town of the Renfrewshire region, which means there is al amenities you will need and also giving it plenty of business opportunity.
Average House price £134,725
Uddingston
Uddingston is short 25 minute drive outside of Glasgow. Those who live there are a mix of commuters and retired all with a strong rural friendliness. With a strong high street and offering all amenities needed for a modern lifestyle.  With selection of good schools it also gives the opportunity of raising a family. Great transport is one of Uddingston's strongest attributes, with the M74 bisecting the village this also merges with the M8 offering many a great routes to many west coast counties, and a train service to Glasgow taking under 15 minutes every 20 minutes allows quick and easy access to Glasgow.
Average house price £167,120
Troon
Troon is a small scenic coastal town, 45 minutes outside of Glasgow giving you the convenience access to the city and being based right next to beautiful coastal views and sandy beaches offers a nice contrast. The harbour is a bustling focal point of the town, with it supplying locally caught seafood to quality restaurants in the town. Troon also offers delightful independent cafes and unique boutique shops. With a lot of options there are various water sports meaning they can get involved with, which a lot of people don't often have access to.
Average house price £190,299