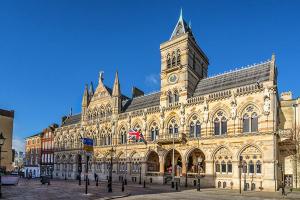 Best Places To Live In Northampton
Northampton is one of the largest towns in the UK, yet don't be fooled - it offers much of what a city can offer, yet has retained a very strong community identity. Northampton has recently had money invested in its housing and transport, including a £20million investment into the train station, yet despite this investment and ongoing improvements, the housing in Northampton is still very affordable, which is great news as it attracts first time buyers and commuters into the area.
With great parks and open spaces for children to play, museums, art galleries, theatres, bars, restaurants and plenty of shops there is more than enough here to keep you busy. Northampton is also extremely accessible to locations such as London and Birmingham, both of which are only an hours travel time away - great for days out and extra work opportunities.
Wellingborough
Wellingborough is 11 miles outside of Northampton with plenty of shops offering everything you need. With three parks nearby you will always have the option of going for walks and accessible space for kids to play in. Close by there is also a wide selection of good primary and secondary schools. If you are wanting to live outside of London but still need an easy commute into the capital thenWellingborough should be one the first options on your list. It was voted the most affordable town within an hour of London and it is a great option for those looking to raise a family.
Average house prices in the area are approximately £196,956
Market Harborough
The market town of Market Harborough has a rich heritage. The town has an abundance of delightful independent shops mixed with high street stores that offer your all the essential amenities required for modern living, as well as delightful restaurants, cafes, Foxton locks and Avalanche activities all on the doorstep as well. At just over 35 mins outside of Northampton itself, it is also very accessible for those needing to get into Northampton.
Average house prices here are £301,929
Moulton
Moulton is set in scenic countryside surroundings but with the added benefit of being close to the centre of Northampton which offers everything you might not find in the village itself. The village does offer the essential amenities though including local shops, a pharmacy and post office. With events through the year, there is also plenty to look forward to and many opportunities to get involved in the community.
Average house prices are around £261,885