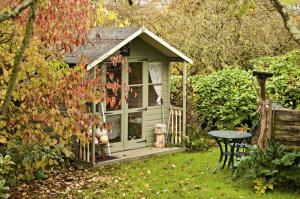 Buying Your New Shed
Depending on what state your garden is in, your first move should be to ensure that everything is tidied up and cleared away. After that, the fun begins! Start thinking about flowers, furniture and what style you want your garden to be.
Do you want a tranquil wonderland to take all your stresses away or maybe a fun filled place of joy for the little ones to embark on exciting adventures? Whatever your dream garden may be, a good place to start is with a stunning garden shed and beautiful fencing to bring it all together. Follow this helpful article from Tiger Sheds to help you find and install the perfect shed and fence for your dream garden!
Picking the Right Product
The first step is finding that perfect product to suit your wishes. This leads us onto several questions which you need to be asking yourself before you even start looking for your shed and fence.
For your shed you need to measure the space where you intend for it to be installed, as this will influence what product you should/are able to purchase. Next, think about what functionality you want your shed to have. The most common with a standard garden shed is for storing tools and garden equipment. Nowadays however people have become a lot more creative, and started using their shed space for different reasons, such as a gym, an office or maybe just a place to relax.
After deciding why you want a shed, you can then decide on what kind of product would best suit your needs. Would it suit you best to have a metal, plastic or wooden shed? What kind of shed style would suit your garden? It's also wise at this point to consider shed access (it may seem like an obvious point but you need to make sure that the shed will be able to be delivered around a side alley or through your home etc).
Regarding fencing, you should consider the space in which you have and the factors that may influence this. Such as, will it be also in your neighbour's garden? Do you need planning permission? Do you need to clear up more space or maybe take down some old fencing? Once you have a greater understanding on where you want your fencing to go, you can start thinking about what style of fencing would best suit your garden.
Ordering Your Product
You're now up to the stage where you have your measurements prepared and a clear idea on what products you're looking to buy. For a stunning and durable garden shed Tiger Sheds are a popular online retailer who specialise in garden buildings, with a clear and easy website where you can order your shed from the website, which you can see here.
Whilst you're ordering your shed, you should also consider how you wish for it to be installed. Many websites offer an installation service which is certainly recommended for anyone who isn't an expert in DIY. However, if you wish to install your shed yourself then we have some advice for you further down.
Preparing Your Garden
Whilst you await your garden shed and fencing, it's usually a good idea to start preparing your garden for when they do arrive. Get everything cleared out, including any hanging branches or trees that may affect your shed or fencing and make sure that the space where you intend for your shed and fencing to go is clear and prepared.
With fencing it's wise that you check that the fence you have in mind complies with planning rules. If you're unsure on this, then one option is to ring your local council for advice. It's also worth bearing in mind that you will need planning permission for fences over 2m high.
Preparing Your Base
For a shed, it's essential that all garden buildings are assembled on a firm level base from an appropriate and durable material. To construct a durable base it is highly recommended to use a local builder or handyman, but if you feel comfortable with actually building a base yourself then there are a few options you can choose from.
Concrete base method
Paving slab method
Timber bearers method
For a detailed explanation on how to carry out each of these methods click here.
Something worth noting is that if you wish to go for the concrete method then we would advise giving yourself a good amount of time before installing your shed for the concrete to set properly.
Installation
The day has come and your shed has arrived! If you have an installation organised, then you're sorted and just need to wait for your installers to come. However, if you intend on installing your shed yourself, then you should expect your shed to come with self-assemble instructions - it's vital that you follow these step by step.
But it could be a good idea that whilst you're waiting for your shed to be delivered to read up on what to expect when installing your shed. You can read a full detailed guide here.
Final Touches
Once your shed is installed then it's time to add the final touches to make it perfect. Of course, it's entirely your choice what you decide to do! Maybe you want to add some paint? Or chuck in some décor or some stunning hanging flower baskets?
A garden shed can make a huge impact on your dream garden so it's important you take some time to consider how you can touch up your shed to get it exactly as you want it. And of course the same goes for your beautiful new fence!
This article was kindly provided by Tiger Sheds™