Creating a Hallway With an Entrance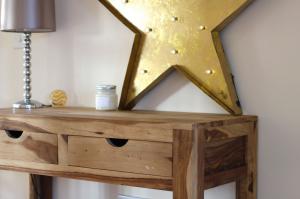 Creating a Hallway With an Entrance
When we went viewing new-build houses to live in over 12 months ago, for our new family home, the one thing that really grabbed me about the house type that we fell in love with – was the hallway. It was large, spacious and light and had a grand staircase.
My first thought was – a Christmas tree hallway. Perfect! We had to have this home!
The hallway in the property that we lived in before (a 1900 North Wales cottage) was so small that you would knock people over when taking off your shoes. It only took a few coats hanging up on the pegs to be more than full! It was similar to a porch area and was the main entrance to the property.
The new hallway, however, in our new-build home is far more practical for our busy, daily family life. With young twins we subsequently have many coats, shoes and wellingtons plus bags that need hanging up and storing. There is a lot of activity during the morning and at times throughout the day within the hallway.
In our new-build we have so much more space to live, get ready to go out and also play. As well as this our new hallway is also suitable for our visitors and guests that come to stay.
When we arrived in our new home on the first day we had nothing to bring from our old house to furnish our new entry. It was therefore quite sparse and needed a more welcoming feel upon opening the front door. It was decorated in magnolia and had wooden flooring.
We have consequently since added in a new telephone table, (which has given us much needed storage), plus it is also somewhere to add accessories such as a lamp and candles. Adding radiator covers has also given the room more style. We have also enhanced the light by hanging a mirror (for much needed hair checking) and a rug to wipe feet when entering the room.
The staircase is the main feature within our hallway – and is the main, central feature of our home. The rest of the rooms (living room, playroom, study, kitchen, downstairs toilet and downstairs cloakroom) all wrap around it. It really does give our home a great flow to it.
I am so thrilled with the hallway and entrance to our new family home. We get ready here for the school run each morning and welcome all of our lovely family and friends who come to visit.