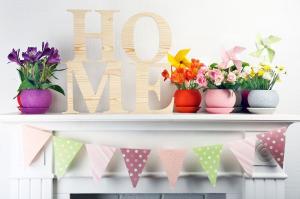 Get Your Home 'Summer Ready' With These Simple Steps
It's that beautiful time of year again, honeysuckle is in full bloom and filling the air with its delightful scent and the sun has been an absolute scorcher so far.
If you haven't already, it's the perfect time of year to give your home a bit of a sort out. With lighter evenings and fresh midsummer air you can get the windows wide open and see those cobwebs you've been missing. A clear out now will leave you feeling prepared and refreshed and get rid of all those winter bugs that are still lying around your home.
The Big Clean
If you're an extremely busy bee, you could consider getting in a professional to give your house a deep clean but now is the time to do it. Start by digging out all of your cleaning products and then get cleaning room by room!
Deep cleaning is quite a time costly and energy sapping process, but you will feel so much better once you've done it. Make sure you don't forget about blinds, windows and skirting boards! If you've forgotten to get glass cleaner, watered down white vinegar works just as well.
Cut Your Clutter
There's no doubt about it, while you're cleaning you will find things you haven't seen or needed for years. Instead of hoarding these things you fail to use each year, donate them to a charity shop, sell them or if you're really struggling to let go, put them into storage.
The best way to force yourself to get rid of items is to put them into a pile of 'things you've used in the last 12 months' and then another pile for items that have been neglected. Either sell or give away the neglected items - you probably won't ever use them and someone else might really need them!
Make Simple Changes
Things like changing up your scatter cushions; bed sheets, towels and even kitchen cloths can transform your home from winter to summer instantly. Colour can transform a room, and with so many interior websites out there now offering beautiful discounted soft furnishings, you have plenty of choice.
A colour that is set to be stylish throughout 2017 is green so pick out some natural coloured cushions for your sofa and pair them with matching lampshades to give your interiors a bit of a shake up.
Get in the Garden
This time of year is perfect for getting into the garden and giving everything a bit of attention. Have a weed and prune back any dead leaves and branches. If you'd like to try and be more sustainable this year, now is the time to plant your salad seeds for those windowsill vegetables. Where roses have been in bloom you will need to cut them back ready for next time and keep on top of mowing your lawn in these perfect growing conditions!
Bring in New Scents
The smell of your home and its ambiance can have a huge affect on your mood. If you've still got wintery candles hanging around, chances are you'll still be in a wintery mood. Switch up your candles and diffusers to something that makes you feel more summery.  You may also want to invest in a citronella and lime candle for the outdoor evenings - the citronella keeps mosquitos away and the lime makes the scent really fresh and summery.