How To Create A Garden In The Smallest Of Spaces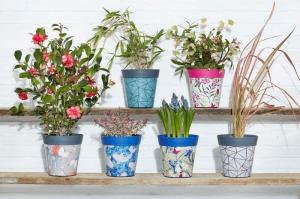 How To Create A Garden In The Smallest Of Spaces
Only got a balcony or back yard? Property journalist Sharon Dale reports on how to create a garden in the smallest of spaces. Urban Flowers by Carolyn Dunster, not least because of the bright pink strapline on the front cover, which reads: "Creating abundance in a small city garden."
I love the picture it paints of bringing a little bit of the country into areas where nature doesn't easily flourish.
Urban Flowers is published by Frances Lincoln, £20, urban-flowers.co.uk
Carolyn practises what she preaches and says: "I am lucky to live a flower-filled life. I grow as many flowers as possible in a small inner-city garden, cramming every available space with pots and planters that change with the seasons. As our 21st century cities get bigger and become more densely populated, it is imperative that we remain in touch with the natural world. From cultivating courtyard gardens to planting window boxes or growing vertically against walls and up drainpipes."
Along with helping the environment – the birds, bees and removing carbon dioxide from the atmosphere – gardens are good for our physical and mental health.
"Nurturing and growing plants is deeply rooted in our DNA. It is what we have done over millennia in order to stay alive. Even if you grow flowers rather than food, the process still reinforces our sense of the world being a magical place," says Carolyn.
Among the many gems of advice in her book are these:
Try growing a pot of seasonal flowers on your doorstep and you will be surprised at how these small gestures lead to conversations. If you grow a showstopper on your front step, it will probably encourage your neighbours to speak to you – possibly for the first time.
A simple wooden shelf fixed securely to a fence or wall provides space for displaying a row of pots, creating a beautiful vignette in even the tiniest of spaces.
A simple wooden shelf fixed securely to a fence or wall provides space for displaying a row of pots, like these Zen Botanical plant pots from hum-partnership.com
A staggered display of plant pots down front steps gives an instant and flexible display.
Vintage-style ladder, £79.95, from MiaFleur.com
Create different planting layers and storeys by using a combination of climbers, small trees, shrubs and herbaceous perennials in a range of heights.
If wind is a problem on a roof terrace, try creating a barrier or windbreak with a row of tall flexible plants like bamboo.
Small pots may be best displayed on top of wooden or metal boxes or tables and chairs so they can be seen. Some of the best effects can be created by grouping small miscellaneous pots in uneven numbers and introducing some repetition in the planting.
An old console table and a collection of wooden boxes make a great display space. The pots are £7.99 each from www.hum-partnership.com
If your time is limited, invest in just one large or medium-sized container, which will be easier to care for than a series of smaller pots. Try planting it with evergreens or grasses to create a permanent backdrop, and use the rest of the space to experiment with seasonal blooms that introduce splashes of colour.
Zinc effect planter with stand, £72, MiaFleur.com
Pot potential: Look round the rooms of your home to see if you already have some containers that would work as planters. Storage boxes, suitcases and trunks, kitchen paraphernalia such as mixing bowls, saucepans or cake tins, empty food cans, and redundant dining china can all be recycled and used as receptacles for your plants.
You can plant into almost any kind of container providing you incorporate some means of drainage to prevent waterlogging. This either means drilling or using a nail and hammer to create drainage holes in the bottom of wooden, metal or plastic containers, or adding some small stones or horticultural grit.
Kitchen colanders are the perfect planting vessels, given that they have ready-made drainage holes. A mini colander in a bright colour can be planted with a single trailing plant for a quick five-minute project that brings instant joy. Add either macramé or plaited plastic twine before planting and suspend it from a bracket.
Evergreen climbers, such as ivy, are a good choice for small spaces, as they offer year-round colour and the perfect habitat for birds and other wildlife. Ivy also attaches itself to its host surface with tiny rootlets and requires no help from you to climb. Climbing hydrangeas (Hydrangea anomala subsp. petiolaris ) do this too and do not cause any damage to mortar.
Carolyn's book has also introduced me to pots that clip on to drainpipes and I have invested in some to mask an especially ugly downpipe. You can buy them for £2.50 each from Wilko.com
Pots that clip on to drainpipes, £2.50 each, from Wilko.com
She has lots of advice on what to plant too, although a good plant stall or garden centre should also offer help with this. The Royal Horticultural Society website is also a mine of information.
When I am in doubt I plant my favourite - lavender. It's hardy, smells divine and bees love it.