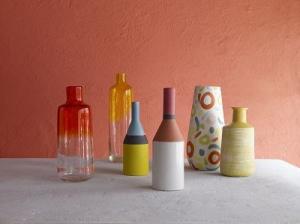 Our Top 12 Favourite Ladies in Interior Design and Architecture
These inspirational women are not only changing the way we decorate our homes, but the way we live in our homes as well. If you're considering picking up the paint brush and getting creative with your home this year, then these ladies can give you all the inspiration you need to create something beautiful. So without further ado here are our top twelve design stars.
1. Kelly Hoppen
Kelly Hoppen is also known as the 'queen of taupe' and with good reason. Her beautiful interiors combine her signature style of clean, precise lines mixed with indulgent textures layered over neutral tones. It's a technique that ensures a timeless style that is both practical yet luxurious.
2. Dorothy Draper
Dorothy Draper was an American interior designer who was famously anti minimalist. She was known for her flamboyant use of bright colours and exuberant prints alongside rococo scrollwork and baroque details. It was a truly decadent style and it was to become known as "Modern Baroque", an interior design movement which added modern flamboyance to the typical classic style.
3. Abigail Ahern
Abigail Ahern is an interior design who adheres to her one golden rule: design a room so that it can never be "read" in an instant", instead she focusses on creating exciting spaces that pull the eye in different directions, fully of interest and detail.
4. Saskia Blyth
Interior designer Saskia Blyth certainly doesn't do things by halves. She is famed for her work delivering homes with everything from underground pools to home cinemas; in a nutshell if you can dream it, Saskia Blyth can deliver it. Don't believe us? Just take a look at this:
5. Orla Kiely
Orla Kiely is a firm favourite among style conscious homeowners right here in the UK, and that's really no surprise. Her modern take on unique retro prints and designs deliver the best of both worlds at a price range to suit everyone. With Orla Kiely you can either go for a little or a lot, from brightly decorated kitchen accessories to furniture, fabrics and wallpapers, and whatever you choose, her designs deliver instant style. Quite fittingly The Guardian once described Orla as "the Queen of Prints".
6. Charlotte Crosland
Charlotte is an award winning interior designer who believes that "everyone needs colour in their home" and we definitely agree. Her design schemes are bold and punchy offering lots of drama combined perfectly with luxurious soft furnishing that deliver the comfort family homes need. Her work proves that high quality interior design and true comfort can go hand in hand.
7. Philippa Devas
Philippa specialised in sympathetic interior design which often takes the architectural elements of a space and uses these as the inspiration for the finished design. Her signature style effortlessly unites old with new to create chic yet practical living spaces.
8. Katharine Pooley
Katharine Pooley has to be one of the most well-travelled interior designers and indeed the most adventurous, and these experiences have clearly influenced her design style. She specialises in high end design for an impressive list of clients. Her style is perhaps best described as sumptuous: with lots of textures and rich gold tones. You can bring a touch of Katherine's sensational style into your home too thanks to her boutique.
9. Zaha Hadid
Unlike the rest of our lovely ladies in this list, Zaha Hadid is not an interior designer or a product designer; she's in fact one of the most acclaimed architects of modern times. She was the first female recipient of the Pritzker Architecture Prize and in 2012 she was even made a dame. Her work includes the London Aquatics Centre, the BMW Central Building in Germany and the Riverside Museum in Scotland.
10. Nathalie Rozencwajg
Nathalie is our second architect on the list. She is the director of the esteemed international architects firm: RARE Architecture and in 2014 she received a commendation from the AJ Emerging Woman Architect of the Year design award.
11. Tricia Guild
Tricia Guild OBE, is a British designer and the successful founder and Creative Director of Designers Guild, an international home and lifestyle company. She is an interior design guru with no less than 15 books to her name, all discussing the subject of colour and design. These publications are a must read for any aspiring interior designers out there.
12. Polly Dickens
Polly Dickens is the creative director of the well-known home and interiors brand Habitat and also has previous experience as the buyer for retailers like Liberty and Athropologie. Her taste and eye for detail is renowned as being impeccable and if the current Habitat collections are anything to go by, her talents are as still as brilliant as ever.
Remember these beautiful vases Sharon Dale featured in her piece on interior design trends for 2016?
If that's not enough creative flair to get you excited about decorating your own home then we don't know what is.