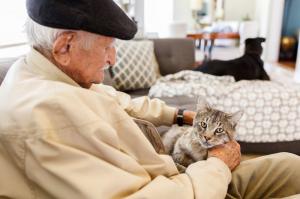 What You Need To Know About Pets In Retirement Living
Moving into and living in retirement housing can be a big step that often can feel daunting and uncertain. It's a new start with new surroundings and more often than not, new people too. One way to make the change easier is to move into your new retirement housing with your pet by your side.
Pets are a wonderful thing and most people don't often think about the benefits pets can bring to life, especially for those who are retired.
The usual choice when it comes to choosing a pet is between a cat or dog. Both offer similar advantages when it comes to companionship but of course, if you opt for a dog, then you have the added commitment of regular walks, but that might not be a bad thing...
Evidence shows that pets actually offer many health benefits. In particular studies have shown that owning a pet can improve your mental health by reducing stress, depression, anxiety and loneliness and it also can improve your physical health, particularly if your pet requires regular exercise.
Owning pets can also increase your opportunities for social interactions with others by simply getting you out of the house or creating a shared interest with your neighbours. Social interaction can be a great help when living in a retirement village, as it can reduce feelings of loneliness and give some structure to the day.
It is however important to think carefully about how your pet will fit into your new lifestyle and environment. That means thinking about things like how much exercise a particular breed of dog might need, the possible noise your pet might make and how that could impact neighbours. You'll also want to think about the size of your pet, particuarly with dogs, as you don't want to end up with a pet pooch that does not suit the living space you have.
Many retirement living developments are becoming more and more pet-friendly as developers are becoming more aware of the advantages pets can have for those living at their developments. This is good news because not only does it give you the chance to get a new pet when you move, it also allows you to bring your existing pets with you too.
Being able to bring an exisitng pet with you when you move into retirement housing can significantly ease the whole moving process, as well as greatly improve your quality of life in the long term.