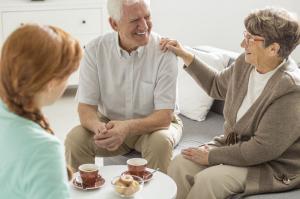 Retirement Property Makes Perfect Sense
For years there has been a gaping hole in our housing provision but now developers have done their sums, looked at the demographics and the grey pound, and finally realised that there is a huge market for retirement property.
The Office for National Statistics predict an ageing population, with 29.5 per cent of people aged over 60 by 2039. By then, more than one in 12 people in the UK are expected to be aged 80 or over.
So building homes that older people can downsize to makes a lot of sense. It frees up much-needed family-sized property, may provide you with a chunk of equity and it cuts living costs.
The biggest retirement property specialists are McCarthy and Stone but smaller developers are now starting to get in on the act, which means there is more choice. Some are even building bungalows – the butt of many jokes and possibly the least "cool" of all property types. Personally, I say "don't knock it till you've tried it". I live in one myself and there's an awful lot to be said for single-storey living. There's less wear and tear on the knees, that's for sure.
There are pros and cons to buying an over 55s development but mainly pros. The advantages include living among those of a similar age. You're bound to have much in common, especially when it comes to reminiscing about the "good old days".
There will also be more single person households, which means that if you are on your own, you shouldn't feel too lonely. The specialist developments often have communal lounges and activities so the chance of meeting people and making friends is high. Security is also good and your home is often linked to an emergency call centre in case you need help.
McCarthy and Stone sites also have a house manager to look after the day-to-day running of the complex. They have also thought of small but important details such as raising the height of the oven to save you from bending.
Prices for most of McCarthy and Stone property are in the low to mid-market territory, although they have crept more upmarket with their Ortus Homes brand, which offers more space. They have also launched assisted living developments that feature catering and care packages for the less independent.
In the luxury retirement complexes, there are five-star restaurants, pools, gyms and libraries, although that is reflected in the price of the property and in the monthly service charge.
Service charges, which pay for communal areas, building maintenance, facilities and staff, are an important consideration. They can be substantial and may sound daunting. Add up what you get for your money and work out if you can comfortably afford them.
Also be prepared to sacrifice square footage. Retirement flats are generally quite small, which means you will have to offload many of your belongings. This can be upsetting but ultimately cathartic. One friend also described it as "less for the children to do if anything happens to me".
You can, of course, look at downsizing into a new home on the open market, one that is not branded "retirement" or only for the over-55s.
The benefit of this is that there will be more choice in terms of location and the community you live in will be more diverse. Many developers will allow you to part-exchange, which will give certainty and take the stress out of selling.
Apartments are by far the most practical solution as they are usually on one level and there are lifts so they are future-proofed against mobility issues. They are also very energy efficient and tend to be secure. Again, assess the service charges.
You could also consider a park home. They are reasonably priced but come with hefty annual site fees and a large degree of uncertainty. If you are thinking of buying one then get a lawyer to scrutinise the contract.
Finally, there is another, more continental way of downsizing and that's multi-generational living. Parents and their grown-up offspring combine their resources to buy one large property, preferably with an annexe. A degree of separation is essential for the success of this arrangement.