How To Create A Contemporary Loft Room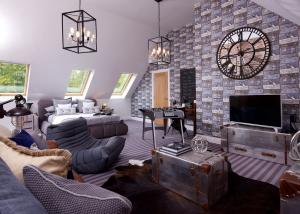 How To Create A Contemporary Loft Room
Interhouse were recently presented with a loft room and set about creating a New York Loft inspired multi-functional room. Here's how they did it.
Many new build homes incorporate an impressive suite on the top floor, often showcasing high, statement ceilings and feature windows that allow the light to flood in. Such an amazing space provides an opportunity to do something a little bit different.
We were recently presented with such a room and set about creating a New York Loft inspired multifunctional room. On a practical level we wanted to design a 'chill out' room, which could also be utilised as a guest room. Its location on the top floor, away from the main living areas, lent itself to a room that could be used by older children, giving them some space and independence!
'Old Bricks' Mural by Surface View - surfaceview.co.uk
The warm tones in the red brick wall mural are echoed throughout the scheme: in the vintage tan leather sofa, desk chair, trims on mirrors and detailing on industrial style metal and leather furniture. Made.com have a great selection of similar leather seating, industrial style furniture and accessories.
See Feather & Black for similar Metal & Leather trim Trunks
The soft greys used in the bedding and cushions add further warmth. Key designer pieces such as the Ligne Roset Togo chair, along with metal and glass pendant lights, clocks and accessories, evoke an urban industrial feel, no matter where your home happens to be!
Article provided by Interhouse Design Ltd, a Yorkshire based business offering a personalised interior design service to the property industry. For more information, please visit interhousedesign.co.uk