Small Doesn't Have To Look Cramped Thanks To Shrunk-To-Fit Furniture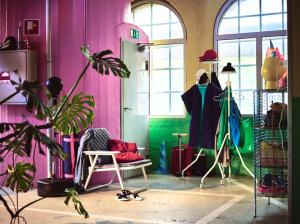 Small Doesn't Have To Look Cramped Thanks To Shrunk-To-Fit Furniture
The increase in studio and one-bedroom apartments aimed at first-time buyers, divorcees and downsizers has created a need for furniture to suit small spaces and our ever-savvy retailers have been quick to respond.
They've taken a shrink-to-fit approach with sofas and armchairs and created extendable dining tables and foldable chairs.
One of the most affordable compact ranges is the The Ikea PS, which is designed to be space saving and easily portable. Much of it is foldable, small and lightweight and it is aimed at the young and young at heart. Launched three years ago, it has been updated for 2017.
The new Ikea PS sofa, £120, looks like a cross between a deck chair and a two-seater couch. It is made to fold up and set aside if you need more floor space. There's also a matching armchair for £79 and a coffee table, £29.
Ikea also sells what it describes as a mini kitchen. The Sunnersta, £99, includes shelves and a sink unit with the option of adding a mini fridge and portable hob. It's functional and rather ugly but adding some curtain wire and a curtain to hide the pipes and the storage space underneath could transform it into something considerably more attractive.
Higher up the price chain but well worth the extra expense is the House collection from John Lewis. The store was one of the first to identify the trend towards petite properties after spotting that sales of its 4ft beds and two-seater sofas were rising. My favourite products include the Bentwood nest of tables, £199, and the slim and sleek Anton dining table, £399.
Marks & Spencer's LOFT collection is also aimed at apartment dwellers. The Fynn compact sofa, £449, seats two and is just 145cm wide. It's a good looking model with sloping arms, a button back and slim, shapely legs.
For shelving and storage, Ikea is an obvious go-to place but check out Made.com, Argos and The Futon Company. Open shelves are the best option for small rooms as they are less oppressive. I love The Futon Company's leaning furniture, especially its oak lean-to desk, usually £229 but £189 in the summer sale. Its ladder shelves start from £39.95.
I may have mentioned this before – several times – but one of the best pieces of furniture you can buy is a sideboard. Made.com do some great modern versions with prices starting from £299. However, you can find original teak sideboards from the 1960s and 70s on eBay from about £60 or less if you're lucky. Even if you add in a person with a van to collect and deliver locally, it should come in at about £100. You can stand your TV on it, add a few books and decorative accessories on the top, while the cupboards and drawers offer lots of storage.
Marcell compact sideboard, Made.com
Here are a few more space-saving furniture and storage ideas:
Room dividers with open shelves help to zone an open-plan living space.
Hooks on doors are perfect for hanging coats, dressing gowns, towels or decorative accessories.
Sturdy wooden chests are fantastically multi-functional. They can be used as coffee tables and extra seating. Lift the lid and you have somewhere to store everything from bed linen and towels to documents.
Use benches rather than dining chairs – they look less obtrusive and will enhance the feeling of space.
Aerobeds. These are really comfortable spare beds and come in a bag with a plug-in air pump. The platinum double airbed is half price at the moment for £149.99.
Look to the past – you can find retro nests of tables and extending dining tables from £20 on eBay and Gumtree and in charity furniture stores. Also, check out console tables, which can make great laptop desks. Bedding boxes are another good investment and will hold bedding/towels/clothes/shoes. If you don't like the colours, then paint them.
Coat stands. Great for hanging your coats in style and they are also tall, slim and space saving.
Coat stand, £130, by Black by Design
If you live in a studio apartment consider a high sleeper bed with space for a desk/bookcases/storage underneath. You can design your own and get a joiner to make one or buy ready-made. Strictly Beds & Bunks do a basic one from about £200.