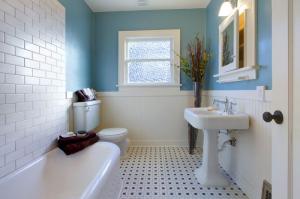 Styling and Decorating an En-Suite Room
An en-suite bathroom is the ultimate luxury for any home, and what is superb about larger new-build properties is that en-suites are usually included in the build design. Many homebuilders try to add as many bathrooms and en-suites as possible into new-build homes without compromising on space, because they know how much we love to have them in our homes.
To be able to go from your master or guest bedroom straight into a beautifully designed en-suite bathroom is such a great advantage. An en-suite is so practical too, usually meaning that there is less of a need to share bathroom space with other family members. No queuing for a shower in the morning!
But what should you consider, when selecting tiles and styles, and for decorating your en-suite bathroom?
Size
First of all, think about the size of your room. Most en-suite bathrooms are usually on the smaller side. It's therefore important to make use of every inch of space with fittings and storage, such as bathroom cabinets and shelving. Try to make sure you aren't wasting any space. Hidden storage, large mirrors and shower racks, are a good way to de-clutter and open out a small en-suite bathroom.
If you have a larger en-suite, you could add some fantastic features, such as freestanding vanity consoles, chairs and accessories. These items make the space more inviting and sumptuous.
Colour Scheme
If you're working with a smaller space, then a neutral scheme on the walls, such as magnolia or white, can help to make a space feel far bigger and lets in more light. You can always add in bursts of colour with towels and decorative accessories, such as vases or pictures, if you wish.
Selecting neutral coloured tiles also makes the room look clean and light. Popular colours include white, cream and grey. Try to avoid very textured tiles, as these are harder to keep clean. If you do want a patterned tile then be careful in a smaller space that it doesn't dominate the room - plus your taste may change further down the line so try to think carefully if the style you're going for is something you could live with in the long term. Keeping things simple within the bathrooms and en-suites will also be more attractive to potential buyers if you do ever want to sell your home in the future.
Flooring
When buying a new build, you will be usually given the option to select the kind of flooring that you'd like in your bathrooms and en-suites prior to moving in. Floor tiles are the most practical - they wipe clean, are easy to keep dirt-free and they are also hard wearing. They are however the more expensive option, so you could always look into using laminate or vinyl, which is cheaper, and comes in a range of colours and styles.
Inspiration!
Many of us love to look at the interiors of other homes for inspiration and ideas to use in our own. Viewing new build show homes or looking online and in magazines for sources of inspiration before you make any final decisions when decorating your en-suite is always a good idea. Chances are you will stumble across something you really like the look of that you would never have thought of otherwise, whether it's something as simple as a paint colour you like the look of to the style of the bathtub.