How to Style Your New Home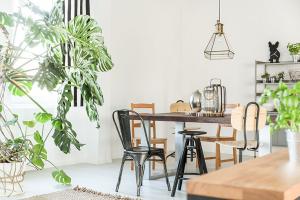 How to Style Your New Home
Owning a new home offers you the perfect blank canvas for designing and styling it to your specific tastes. Before getting started have a look at our top tips on making your house a home.
Colour Yourself Happy
Walls
New builds are great for styling as a lot of the hard work is usually done before you even get started. Clean walls in fresh, neutral colours are a great place to start – whether you're looking to repaint in similar tones or go in adding plenty of colour. Try buying a sample pot of paint and doing a small corner of the wall and leaving it for a few days before painting the entire walls. This will let you see whether the colour you've chosen is right for you - if you're looking to create impact by adding in a feature wall for example, you'll need to make sure it's a colour you like and can live with for more than just a few months. Remember dark colours can make rooms feel smaller, so be careful when choosing your shade.
Floors
As with the walls, most new builds will have neutral flooring, unless you were able to choose your own carpets and flooring as the build was underway and you opted for something different. If neutral flooring isn't for you, you can easily add colour to any room by putting down patterned and colourful rugs to add vibrancy to the room, or to cover flooring you don't particularly like until you can afford something different. If you do want to change the flooring in your new build, think carefully first - cream carpets might look great in home magazines, but they can be a nightmare to keep looking clean, especially if you have pets or family members who are prone to spilling! 
Fixtures and Fittings
Fitted Furniture
Most new build developers will offer you the option to purchase fitted furniture to go into your new home. This is a great option if you don't have much furniture of your own and these options can include fitted wardrobes, study areas, media units and built in storage units.
Freestanding Furniture
The majority of buyers tend to purchase freestanding furniture for their homes. Freestanding is great as it means you can move it around your home from room to room as much or as little as you want depending on where furniture works best. Shop around and make sure you buy high quality pieces - this doesn't necessarily mean spending a fortune and if you need to save up before you make a purchase then do so - you don't want to be replacing furniture after just a couple of years because it didn't stand the test of time.
Existing Furniture
If you are bringing furniture with you from a previous home, such as sofas, beds and tables, then make sure you have carefully measured the doors, frames and stairways of your new home as you will need to make sure you're existing furniture will fit. Put down masking tape to measure out the floor space to make sure it will all fit in.
Storage
Storage is one of the main problems that many homeowners face. However it's a problem worth tackling full on, as finding clever storage solutions can help to keep you organised and efficient, as well as stop your home from looking cluttered and messy. Scour the internet for some creative and innovative ways to store your items.
Cheap and Cheerful
Recycled Furniture
Recycling furniture is one of the biggest trends at the moment. Not only can it save you a decent amount of money, it can also be a great option if you're looking to create a vintage feel to your home and ensure your furniture is not a slave to the Ikea personality. Scour local car boot sales, Ebay, Gumtree and Freecycle for free or cheap goods going in your area. 
Soft Furnishings
Recover your sofa cushions with new fabric to give life to your old sofas and dining room chairs. Cushions and frames are some of the cheapest ways to add style to your room. Add splashes of colour consistent with your chosen theme. Adding curtains and blinds which tie in with your colour theme will add texture and luxury to your rooms.
Shelving
Shelving is great for styling and creating storage. Use old baskets to store magazines, children's toys and other bits and bobs on the shelves to make sure they do not get too cluttered.