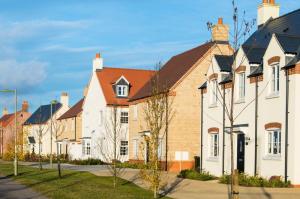 Selling Your Old Home and Getting a Brand New One Is Easier Than You Think
The logistics of selling your home in order to buy a new one continues to bamboozle many home buyers, so property journalist Sharon Dale investigates what help's available.
The promise of a home that is low maintenance and energy efficient continues to lure more of us into newly-built property. The logistics, however, continue to bamboozle those who would like to swap their old house for a brand new one.
The most perplexing issue is the sale of an existing house, which presents many uncertainties. It is almost impossible to predict how long a property will take to sell. Then there is the question of how much it is worth. It may have an asking price of £200,000 but is anyone willing to pay that amount?
You could, of course, sell and rent somewhere before beginning your search for a new home. You could resist house-hunting until your own home is sold or you could look at part-exchange. Many developers now offer this option on selected plots and it can be a hassle-free solution.
The builder takes your old home as part-payment for a new one, which means no estate agency fees. The price they offer for your existing property is usually based on two independent valuations, although it is also worth getting your own valuations to check that the figures are in the same ballpark.
When considering the offer, remember to take into account the savings you are likely to make and the costs the developer will incur when re-selling your old home. There may be room for negotiation at this point.
Properties excluded from schemes like this include those that are considered unmortgageable, those with structural defects and flats with fewer than 80 years left on the lease.
To take advantage of part-exchange, you must be trading up and buying a property that is worth more than the one you own. Most homebuilders will only consider buying your house if it is worth up to a certain percentage of the value of the new one.
Barratt Homes offers part-exchange where the property being traded in is no more than 70 per cent of the selling price of the plot purchased. The deal is only available up to a maximum value of £300,000 for your old property. If you decide to go ahead, the company has two valuations done and will buy your old home within eight to ten weeks once you accept their offer.
Miller Homes say that a straightforward swap can see a buyer in their new home within four weeks. Hull-based Beal Homes will make a cash offer for your home within seven days after a valuation.
If you don't fancy part-exchange, some homebuilders offer a service to help you get a speedy sale on your existing home.
Redrow has had a great deal of success with its MasterMove scheme. The deal is that you find a Redrow home you want to buy and register with the company's MasterMove service. Redrow then arranges two or three valuations of your existing home and, together, you agree a price that will help sell the property quickly. The aim is to get a buyer within four weeks. An agent is appointed with Redrow contributing towards the estate agency fees.
Craig and Sally Labudek took advantage of MasterMove when they wanted to upsize to a bigger property. They had already tried extending to create more space in their four-bedroom detached home but with three daughters it simply wasn't big enough.
After house-hunting, they set their hearts on a five-bedroom Marlborough home at River View, part of Redrow's popular Barton Park development in Barton Seagrave.
Thanks to Redrow's MasterMove service they were able to sell their old home quickly and easily.
"The agents Redrow instructed to market our home were amazing," says Sally. "We had offers almost straight away. The house went to sealed bids within five days and sold almost immediately. We were then were able to reserve our new home and continue the purchase of our new one."
The Labudek family outside their new Redrow home at River View, Barton Park