A guide to Stamp Duty on new homes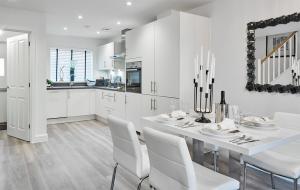 A guide to Stamp Duty on new homes
Stamp Duty Land Tax, or stamp duty, is a tax you must pay when you buy a property. It is a lump sum tax and applies to all home purchases, including on new build homes.
First Time Buyers
First time buyers in England and Northern Ireland will pay less or no tax if the property price is less than £500,000. In Scotland this is £175,000. There's no exemption for first time buyers in Wales, but the threshold for payment is much higher.
Stamp duty is a tiered tax where you pay progressively more as the value of your home goes through pre-set thresholds:
England and Northern Ireland
You pay nothing on the value of your home up to £125,000
2% of the value from £125,001 to £250,000
5% of the value from £250,001 to £925,000
10% of the value from £925,001 to £1.5 million
12% of the value over £1.5 million
Calculate stamp duty England and Northern Ireland here.
Scotland
In Scotland, stamp duty is called the Land and Buildings Transaction Tax and the thresholds are different:
Zero - up to £145,000
2% from £145,001 to £250,000
5% from £250,001 to £325,000
10% from £325,001 to £750,000
12% over £750,000
This means you pay less tax on properties worth up to £325,000 in Scotland than you do anywhere else in the UK, but more on properties worth over £325,000.
Calculate stamp duty in Scotland here.
Wales
In Wales, this tax is called Land Transaction Tax, and the threshold for payment is £180,000 - the highest in the UK.
Up to and including £180,000 - 0%
£180,001 to £250,000 - 3.5%
£250,001 to £400,000 - 5%
£400,001 to £750,000 - 7.5%
£750,001 to £1,500,000) - 10%
£1,500,001 and over - 12%
Calculate stamp duty in Wales here.
What About Shared Ownership?
The main difference when paying stamp duty on a shared ownership property compared to a standard property is you have two options for paying. The first is to pay the full amount of stamp duty owed when you buy your initial share. The second option is to only pay stamp duty on your initial share. When you then staircase your share to increase the proportion of the property you own you will pay more stamp duty.
How to Pay Stamp Duty
You have 30 days from the completion of the sale to pay the stamp duty you owe. If you don't you could be liable to a fine and interest payments.
While it is legally your responsibility, in many situations your solicitor will handle stamp duty for you.