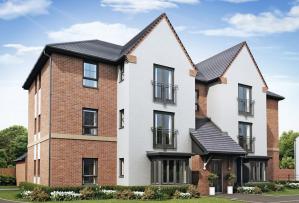 A Round-Up of the Best New Homes Developments in Telford
If you're interested in Telford, here's a guide to the best new homes on offer at present.

New Home Round-Up - Telford

Blossom Gardens – Barratt Homes.

Barrett Homes are one of the UK's best-known UK developers, and for good reason; they construct attractive properties that blend well with the surrounding area. The Blossom Gardens development is situated in Lawley Village in Telford; which is conveniently close to the M54 and the local amenities (including a Morrisons supermarket). The two- and three-bedroomed homes and apartments offer light, airy living space, and some can be purchased with just a 5% deposit.

The Oaklands – Lovell Homes.

The new build two- and three-bedroomed homes at The Oaklands are affordable, whilst offering a high standard of living throughout. They're perfectly positioned for access to the motorway, plus it's only a short stroll to Telford Green Park – a 450-acre area with beautiful gardens, children's play areas and a café.

Village Walk – Persimmon.

Also situated in Lawley Village, Persimmon Homes' new development, Village Walk, offers easy access into town, plus several woodland walks close by. There's a wide variety of new build homes on offer, each with their own distinct architectural features – from four-bedroomed detached properties to two-bedroomed semi-detached.

Woodland View – Charles Church.

Charles Church's new build homes in Telford are ideally positioned for the local shops and supermarket, plus The Thomas Telford School, one of the highest-ranking state schools in the country. There's a choice of two-, three- and four-bedroomed properties on offer, featuring modern, open-plan living spaces, en suites and outdoor areas.

Newdale Valley – Persimmon.

Persimmon Homes are also in the process of constructing new build homes at Newdale Valley, which, like the Village Walk development, is also in Lawley Village. Houses range from two-bedroomed semi-detached to grander four-bedroomed detached properties, and each has been designed to stand out from the crowd, with unique features.

Daisy Park – Lioncourt.

Daisy Park has a great location, close to Telford Central train station and Oakengates Leisure Centre. Additionally, residents can enjoy easy access to the Wrekin Retail Park, The Ski Centre, and Telford Ice Rink, along with many restaurants, pubs and cinemas. The houses themselves are designed for family life, with good sized rooms and plenty of storage solutions.

The Paddocks – Keepmoat Homes.

These new build properties have an enviable location, just a few minutes from the town centre, and close to the picturesque Shropshire countryside. Each home features a range of attractive architectural features, and some come with garages or driveways.

When to Start Looking

Telford is seeing high demand, and prices look set to rise in the future. If you're interested in moving to the area, we recommend starting your search quickly, to take advantage of the affordable properties on offer.