Advantages of Buying a New Build Home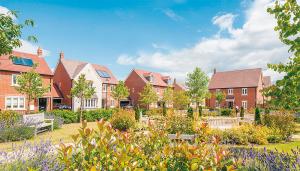 Advantages of Buying a New Build Home
What about new build homes, though? What are the advantages of buying a brand-new property rather than an existing one?

There are several advantages that new build homes offer that older properties don't. These include advantages that will lower your costs at the time of purchase as well as in the years that follow. In addition, new build homes are often a better match for modern lifestyles.

Below are just some of the advantages of buying a new build home.

Government Assistance to Buy

One of the most popular Government schemes to help you buy a home is only available if you buy a new build. It is called Help to Buy and is an equity loan scheme that you can get whether you are a first-time buyer or if you already have a home and want to sell it to get another one.

Help to Buy applies to new build properties up to £600,000 in England and £300,000 in Wales. Under the scheme, you will still need a deposit of five percent of the purchase price. The Government will then lend you 20 percent of the purchase price or 40 percent if you are in London.

This means you only need a mortgage for 75 percent of the value of the property or 55 percent if buying in London. This should mean you will get access to more mortgage options as well as better deals. In addition, you will have lower monthly payments as you don't have to repay the equity loan until you sell the property.

Comes with a Guarantee

If you buy an existing property, you will not get a guarantee. You might get a guarantee on specific items in some circumstances - for example, if the seller recently installed a new boiler that is still under the manufacturer's warranty. This situation is, however, rare. Usually, you get nothing and must foot the bill to repair every problem that arises.

It is completely different with a new build home. When you buy a newly built property, it will come with a 10-year warranty from the National House Building Council. This covers you for structural and drainage defects. In most situations, you will also get a guarantee from the developer that usually lasts two years and covers a wider scope of fixtures and fittings.

Higher Specification

New build properties feature brand new fixtures and fittings. This includes everything from the light switches to the toilets to the units in the kitchen. These fixtures and fittings are almost always of a higher specification than in a similarly priced existing property, simply because they are brand new.

No Wear and Tear

Everything in a home suffers wear and tear over time. Even something installed, renovated, or upgraded relatively recently in an existing property will still have suffered wear and tear if the home is lived in.

With a newly built home, everything is new so you will be the first user. In other words, there will be no wear and tear when you move in. This will reduce the amount of maintenance you will have to carry out, particularly in the early years. In addition, everything will last longer.

More Energy Efficient

Newly built homes must adhere to strict energy efficiency regulations in order to pass building control inspections. In addition, many developers understand the attraction to home buyers of owning a home that is as energy efficient as possible. After all, heating costs are lower in an energy efficient home, plus energy efficiency measures help to protect the environment. As a result, developers often go further than the regulations require to make homes as energy efficient as possible.

At the very least, a newly built home will have a modern heating system, modern insulation including cavity wall insulation, and double glazing. The house is also likely to be less draughty than an older property.

The savings from this can be substantial and long-lasting. In fact, your energy bills could be up to £1,400 per year lower in a new build home than in a modernised Victorian home of the same size.

Can Often Personalise

When you buy an existing property, what you see is what you get. This is why many people start decorating and making changes as soon as they take ownership as they want to put their stamp on the home and make it more comfortable to live in.

With a new build, you typically have much more opportunity to personalise your purchase before completing the sale and moving in. This includes choosing the type of property you want to buy. In most schemes, there are multiple property types so you can get one that best suits your needs and your budget.

In addition, many developers let you personalise various elements of the home. This can include the kitchen, bathroom, tiles, carpets, and more. The result is the home you want from the moment you get the keys, i.e. there is no need to redecorate the living room or paint the kitchen cabinet doors, for example.

Easier to Purchase

In most situations when buying an existing property, there is a chain. This could be just you and the seller but it could also involve multiple people with each one dependent on the other. When things go wrong in the chain, such as a mortgage not being approved, delays to your purchase can occur. This is despite the fact the problems have nothing directly to do with you except that you are part of the chain.

With a new build, however, there is no chain as there is nobody living in the property you are buying. The transaction is between you and the developer which is a much simpler process to deal with.

Built for Modern Living

Developers want the properties they build and sell to be as attractive to purchasers as possible. This means they typically make the homes in their developments fit with the needs of modern living. This includes having multiple bathrooms and en-suite bedrooms. It also includes a better overall layout as well as modern features such as television and data sockets.

Newly built homes tend to make much better use of space than older properties. This is driven by consumer demand as home buyers want as much bright space as possible. Architectural best practices have evolved to meet these demands so modern homes feel roomier and are more practical.

Safer and More Accessible

Newly built homes typically come with as standard security features, plus you can often specify upgrades that the builder will complete before you move in. The security features included in many newly built homes include modern locks on the windows and doors as well as alarm systems.

Building regulations and acceptable standards change throughout the years as new risks are identified. They also change as new technologies and products make it possible to improve the safety, accessibility, and quality of homes. There is no requirement for existing property owners to bring their homes up to modern standards, however. All newly built homes, on the other hand, must be built according to current regulations.

This includes fire regulations, energy efficiency regulations, and more.

Buying a New Build

There is one other key benefit of buying a new build home that appeals to many people - you will be the first person to live there. This advantage is not a game changer for everyone, but it can be important.

Whether this specific point is important to you or not, there are many reasons why buying a new build home is better than buying an existing property. In short, it is typically the quickest, least costly, and most hassle-free way of getting the home you want.