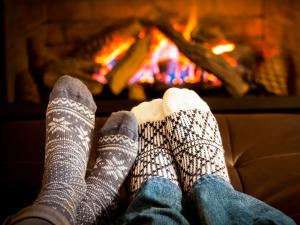 Beat the Winter Blues at Home
But, there is a bright side to all of this. There are lots of things you can do at home to start your mornings right and beat those winter blues!

Lighten up

Lighting is always an important factor in the home and during the winter it is key to brighten up those gloomy days. Lack of sunlight contributes highly to winter blues or SAD syndrome (seasonal affective disorder) so making the most of lighting in your home is a great way to combat this.

Keeping your curtains wide open is a great way to let in as much natural light as you can and, even if it's dark when you wake up, the natural light will start to creep in as the day gets brighter. Now if you're an early riser and rarely see the sunlight in the morning, you can invest in a light box. This will simulate natural light in the mornings by gradually getting lighter when you are waking up. This is a great way to substitute the lack of natural light early in the mornings.

Natural light isn't the only way to brighten up your home during the winter. Adding additional lighting to your home will go a long way to keep you rooms looking bright and open. Table and floor lamps are great at adding light into gloomy corners and by adding brighter bulbs into all your lights you can really cheer up your home.

Candles are another great way to add some light into your home and brighten up dark areas of your room. During the wintertime it is also nice to have scented candles in your home, so try and pick a scent that is warm and inviting for your home. By choosing a scent that you love, you can spread this around your home with candles and even diffusers to bring a lovely winter smell into your space (and some added lighting).

De-clutter

A messy home is never a nice environment to come home to after a long day, especially with the winter looming. We all have our annual spring clean but this is just as important in the autumn. Also by keeping on top of your home and keeping it clean and tidy, this will prevent you from having to tidy up all the time when you've had a long day and you just want to relax. So whip out the rubber gloves and have a good clean up; having a clean home should keep out those spiders too!

It's a good idea to de-clutter your space as well. A messy, crowded space can make you feel more tense and overwhelmed. Getting rid of clutter and tidying up can go a long way to make you feel more positive at home and it is a great way to get rid of unwanted things, ready for your new winter wardrobe and all those festive gifts.

Get Out

Being more active when it's cold and dreary outside can go a long way to make you feel more positive. Instead of staying cooped up inside, why not wrap up warm and go for a leisurely stroll? The fresh air and natural light alone will make you feel more positive and getting out and about will stop you from feeling fatigued and lethargic.

It's also a great opportunity to get out and be sociable. No one wants to be stuck inside all winter so why not get out with friends and family. The festive period is getting closer and closer, so what better occasion to spend quality time with the ones you love. It is also a brilliant excuse to get out of the house and beat those winter blues.

Cosy Up

We all spend a lot more time at home during the winter so it is key that our homes are warm and inviting and a lovely place to snuggle up when it's cold outside. Soft furnishings and home accessories can add a lot or warmth and comfort to a space and it is relatively easy and cheap to achieve. Try adding in or swapping out your cushions and throws on your beds and sofas, opting for more plush textiles, in warmer colours, is a great way to feel more cosy in your home. Rugs are another great idea to add some texture and warmth to the home, especially in rooms where you may have hard wood flooring. You can also swap in some thicker curtains to make a room feel warmer during those cold winter nights.

The great thing about injecting a load of new warm, snuggly textiles into your home during the winter is that they will make a room look more inviting, feel cosier and make you feel more content. It is also very easy to add new soft furnishings in to your home as these can be swapped out again when spring rolls around and be stored until next winter.

We usually need more sleep throughout the colder months so making sure your bedroom is comfortable and snug is important. We all tend to feel a lot more tired this time of year so getting a really good night sleep can be a huge helping hand. It is also a good idea to create a calm and relaxing sleeping atmosphere to get the best sleep you can. Changing your bedding in the winter is just one way to make your nights more relaxing and by adding plush bedding you can really unwind before you go to sleep. It is also a great idea to make sure you make up your bed each morning to make your space feel more tidy and to give you an inviting bed to come home to after a long day.

Let's Colour

Colour schemes are of the upmost importance in a home and can make a huge difference to how a space looks and feels. During the winter months, it is best to inject warm toned colours into your home to make it feel warmer. Cool toned colours like blues and whites can be harsh and make a space feel cold. Opt for beige colours instead or other warm tones and it will instantly make your home feel more inviting. Wall colours, whether its wallpaper or paint, have a huge impact so this is a good place to start to give some added warmth to a room.

Adding warm colours into your home doesn't have to be a dull as it sounds; it's not all beige and brown. Bright colours can be excellent at brightening up a space and injecting a splash of colour. Try your favourite brights such as pink or orange to liven your room up and make it feel more fresh and fun. This will certainly lift your mood during the duller days!

Rearrange

Sometimes, during the colder seasons, we can feel a bit routine and stagnant in our environment. We all spend a lot of money on our homes to make them look just how we want them to, so swapping and changing furniture and accessories isn't always possible. But, there are a few small things that you can do to try and change the look of what you already have. Moving a piece of furniture even just a few inches can make a huge difference to change the look of your surroundings. You may even want to swap a piece of furniture between rooms (such as a chair or side table) just to mix it up a bit!

There may also be some other small things to do, just to refresh the look of your interiors slightly. Buying some new, smaller home accessories can be a great help. Try photo frames to showcase your favourite memories, or new pieces of art to hang on the walls. Even changing lampshades or rearranging you bookcase can switch things up a little bit.

Au Nature-l

With autumn slowly creeping in, our surroundings are changing colour each day. Gone are the bright greens and pale yellows, to be replaced with rich reds and deep oranges. And although the autumnal colours are as beautiful as those brought by the spring, it is always nice to have that crisp green feeling in your home. Potted plants and fresh flowers are great to inject some colour to your home, as well as offering a lovely fresh scent. This is a great way to bring the nature of the outside world into your home during autumn and winter.

Soak it up

There's nothing better than having a nice relaxing bath after a long, busy week and during the winter a hot bath is a wonderful way to unwind. Making your bathroom beautiful is the first step to creating a sanctuary to chill out in. Keeping it clean is a given, but try to reduce clutter also- no one wants almost empty bottles falling on them in the shower! The bathroom is a place to accessorise just as much as any other room in the house and ornaments, candles and some fluffy towels will make your bathroom feel warm and lush during the winter.

SAD Syndrome and the winter blues can be a real problem at this time of year, so don't let the weather get you down! Staying positive and motivated when it is gloomy outside can be hard but bringing that positivity into your home is a great place to start.