Do new builds make a good buy-to-let investment?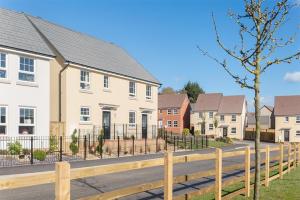 Do new builds make a good buy-to-let investment?
Of course, even with the benefits of new builds, you will still find attractive opportunities with existing properties. Make sure you consider new builds, however, as they often allow you to make higher profits in less time while requiring less personal input. The following benefits explain how.
New builds require less of your time
One common approach that many buy-to-let investors take is to purchase a property and then increase its potential yield by renovating or converting it. An example is to turn a house into several flats. Even if you don't renovate or convert, properties often require decorating before you can get tenants. Both will take up your time as you are likely to be involved whether it is to do the work yourself or to manage contractors.
If you are busy with other things, such as working in your main career or because of family commitments, new builds are the ideal alternative. The amount of work you must do to prepare a new build for renting is minimal.
New builds will also take up less of your time as a landlord as they require less maintenance - see more below.
You can start earning rent immediately
Following on from the last point, you can get tenants for a new build almost as soon as you take ownership of it. This is because everything in the home is brand new, squeaky clean, and ready to go. This is particularly the case if you buy a property that is fully decorated, which many new builds now are.
With an existing property, you will almost always have to redecorate at the very least. You may also have to carry out repairs or renovate all or parts of the property. This costs money but, more importantly, it takes time. While you are completing that work, the property will not be occupied so you won't be collecting rent.
Easier and faster to purchase
New build properties don't have a chain as it is just you and the developer involved in the transaction. This makes it much easier and quicker to complete the sale, plus it is less likely there will be delays. This saves you time and it can, in many situations, allow you to rent out the property sooner.
Requires minimal maintenance
As everything is new in a new build property, minimal maintenance is required, particularly in the first years. This is another way you will save time by investing in a new build buy-to-let property. You will also save money as there will be fewer repairs, making your investment more profitable.
In addition, the fixtures and fittings in a new build will probably last longer than the same fixtures and fittings in an existing property. This will also save you money over the longer term.
You get peace of mind with guarantees
Following on from the last point, many developers give you a guarantee on the fixtures and fittings for two years. This gives you added peace of mind that you will not have to cut into your profits to carry out maintenance. Warranties also make it easier to budget and estimate your rental income as you do not need to set aside funds to cover the cost of repairs.
Developer guarantees are in addition to the 10-year National House Building Council guarantee that you get when you buy a new build. This covers structural and drainage problems. In addition, you get added peace of mind that you will not be out of pocket if anything goes wrong with those elements of the property.
Establish a presence in new areas
New build developments are often in areas that are up and coming, increasing in popularity, and rising in value. This usually makes it easier to find tenants, particularly because most developers now pay great attention to the accessibility of local amenities.
In addition, the right up and coming areas will see the value of your buy-to-let investment property rise.
More appealing to tenants
A new build home will have a modern specification, new fixtures and fittings, and modern décor. These are all things that are attractive to tenants and should mean you will be able to attract higher rents and/or find tenants quicker.
More energy efficient
Modern building regulations mean all new builds must comply with strict energy efficiency regulations. These regulations protect the environment as you need less heating to keep the house comfortable. This appeals to many tenants but an even greater attraction is the reduction in fuel bills.
Double glazing, modern insulation, and energy efficient boilers all help to lower the cost of running the home which is a great selling point to tenants.
Fit for purpose
Finally, new build homes are fit for purpose. This can apply in a number of ways. Firstly, a new build flat is always going to work better than a flat in a property originally built for another purpose. For example, a house converted into flats will never function as well as a purpose-built apartment block that uses the latest architectural concepts, technologies, and techniques.
In addition, new build homes are more suitable to the way most people live their lives today. This includes everything from the way your tenants use technology to the efficient use of space. All these things will make a new build buy-to-let property more attractive to tenants than an existing property.
Should you invest in a new build as a buy-to-let?
If any of the following applies to you, a new build is an ideal buy-to-let investment:
You have money to invest but you don't have much time to spend getting the property ready for tenants
You want a property that you can start renting quickly
You want the peace of mind of a low maintenance property that comes with warranties
You want a property that offers benefits to tenants and will be more appealing than an older property that will, inevitably, be suffering from wear and tear
In the right circumstances, new builds are not just a good buy-to-let investment choice - they are the recommended choice.