5 ways to improve your credit score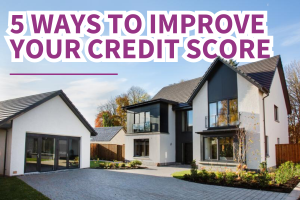 5 ways to improve your credit score
Your credit score is very important. You may have just read What is a credit report?, so you should now understand why it is necessary to monitor and improve it, but you're probably wondering how. Here are our top tips to increase your credit score.
1. Register on the electoral roll
This is one of the easiest steps you can take. If you're aged 18 or over, you should register on the electoral roll for your current home, regardless of where you live. There are other reasons why you should do this too, such as being eligible to vote, so this is a great first step. Click here to get started via the Government 'Register to Vote' website.
2. Build your credit history
In order to get a good credit score, you'll have to borrow money in some way or another. This may be in the form of car finance, credit cards, mobile phone contracts or purchasing household items on credit like a sofa. Provided you pay your minimum repayment amount, or pay your bills on time, the more credit you have and pay back, the more trustworthy you will appear to mortgage lenders.
3. Pay on time
A good credit score is a reflection of your ability to pay money you owe on time, in full. Do not take out credit if you will struggle to repay as this will negatively affect your credit score. Missed payments show up like red flags to mortgage lenders.
4. Don't max out your credit
Using all of your allocated credit can show you as a risky borrower. It might be tempting to spend more than you should just because you can, but remember you will have to pay it back, with interest. It's better to use less than 50% of your allocated credit to prove you are using it responsibly.
5. Don't move home too frequently
If you are renting, moving home frequently may indicate you can't afford to pay your rent or bills. Aside from moving to save money, consider if any potential move whilst saving for a deposit is really worth it.
Be patient...Improving your credit score is often not a short term process. By taking steps to improve now, you're likely to see the benefits by the time you apply for a mortgage.
Disclaimer
newhomesforsale.co.uk is not a financial advisor, mortgage broker or mortgage lender. Always get financial advice before making significant decisions about your money, mortgages and buying a house.