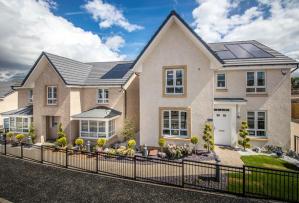 Glasgow: Where You Can Get More for Your Money
Are you looking for a place to live that offers a great quality of life, without an extortionate price-tag? If so, it's worthwhile considering Glasgow. Scotland's largest city is also one of its most cost-effective, with a range of attractive new build properties that are well within your price budget.
Here are just a few reasons why it pays to search for property in Glasgow.
Glasgow – The Savvy Homebuyer's City
Property prices are low, but look set to soar.
Current average property prices in Glasgow are considerably lower than the national average, which means that you get a lot more house for your money. Even better news, if you buy now, you're likely to enjoy impressive profit from capital growth in the future.
Experts predict that prices are set to climb rapidly over the next few years, by almost a quarter in just four years.
It's the fifth highest performing area
According to reports, Glasgow is currently the fifth highest performing region in the UK, which demonstrates its growing popularity. It's hardly surprising – over the last decade or so, it has undergone dramatic transformation, and regeneration is still happening in various parts of the city. Many property investors are keeping a close eye on Glasgow, and it's worthwhile following their example, before prices rise significantly.
It's wonderful for buy-to-let investment
If you're thinking about purchasing a new build for buy-to-let purposes, Glasgow is a good area to invest in. It's been a buy-to-let hotspot for a few years now (and regularly features in the top five best places to invest in property to let), and rental yields are among the highest in the country, especially in the G42, G51 and G1 postcode areas, which produce yields of around 7.5% to 7.7%.
If you're looking for incredibly cheap accommodation, you've found it
If you want a huge detached new build property, with five bedrooms, a driveway and a garden, you can expect to pay just £400,000 – a far more reasonable price than the rest of the country. However, if you're looking for something ultra-cheap, Glasgow has a range of bargain properties that are well under £100,000, especially in Easterhouse and Balornock. Given how rapidly house prices are rising, you might find that you're able to make a good profit on these types of properties in a short space of time.
It's got a low cost of living
If all this wasn't enough, Glasgow is a far less expensive place to live than many other parts of the UK. Living costs are around 20% less than London and 10% less than many other major cities, yet average salaries are reassuringly high. This means you'll have more money in your pocket to enjoy all the benefits of living in this vibrant city.
When Should You Start Looking?
If you're keen to invest in a new build property in Glasgow, it's a wise move to start searching sooner rather than later, as prices are increasingly steadily. Buy now, and you could enjoy a solid profit from capital growth in the future.