How New Homes are Leading the Affordability Revolution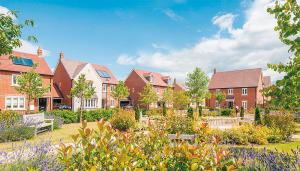 How New Homes are Leading the Affordability Revolution
Buying a new build home is very different to buying an existing property. There are options available to you that are not possible unless you buy a new home. In addition, the standard of property is different and the buying process is more simplified.
When you take all these things together, new build homes are the affordable choice for all types of purchaser including first-time buyers and those wanting to move to a bigger, more practical, or nicer home.

Schemes that Help You Buy

One of the main affordability drivers for new build homes are schemes that help you purchase. This includes Government-backed and privately-run schemes that are exclusive to those buying a new build home.

The most common is the Government-backed Help to Buy scheme. It is available to all new build house buyers providing the purchase price of the house is £600,000 or less.

Under the scheme, the Government lends you part of the purchase price of the house:
• 40% if buying in London
• 20% if buying anywhere else in England

There are similar schemes in operation in Scotland, Wales, and Northern Ireland.

When you buy a house using the Help to Buy scheme, you need a smaller mortgage. As a result, your monthly mortgage payments will be lower. The loan to value ratio of the mortgage will also be more favourable which will give you access to better mortgage deals.

The Help to Buy scheme is not the only scheme that is available. Many builders also offer schemes to make it easier to afford the purchase price of a new build home. Normally these are shared ownership schemes where you initially purchase a percentage of the house and rent the remainder from the developer. You can then choose to purchase additional shares in the property at a later date – this is known as staircasing.

Other Things that Make Buying a New Build Home the Affordable Option

Of course, the purchase price and the cost of the mortgage are only two factors you must consider when buying a house. Other factors also influence affordability. When you look at many of those factors, new build homes are the more affordable option:

• Ready to move in – existing homes often need renovation work before you can move in. This isn't always the case, but when it is the decorating or renovating work can be costly. New build homes, on the other hand, are ready to live in.

• Ongoing costs – new build homes are cheaper to live in. This is mainly because they are more energy efficient than existing homes and because you are less likely to have to carry out repair work, particularly in the early years.

The housing market can present many challenges, including the cost of buying. For many people, new build homes are the most affordable option.