How To Fragrance Your Home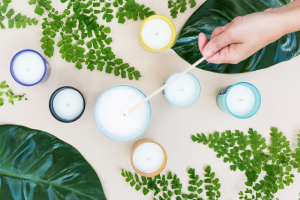 How To Fragrance Your Home
Popping a candle in the centre of a coffee table, or up on your mantelpiece really makes a home look and feel cosy. Perhaps you have a bundle of pillar candles by your fireplace, or a statement diffuser on your entrance table. However you decide to introduce fragrance into your home, whether it be a candle, diffuser, or orange peel on the stove, it's guaranteed to make a house feel like a home.

Nowadays, you can find fragrances ranging from citrus peel and wild berries, to ocean breeze and sandalwood. But, did you know that certain fragrances can work better in certain rooms? With such a variety of fragrances available from hundreds of brands, finding the right fragrance for the right mood can make a huge difference to your home. Read below on how to match the perfect fragrance to the different rooms in your house.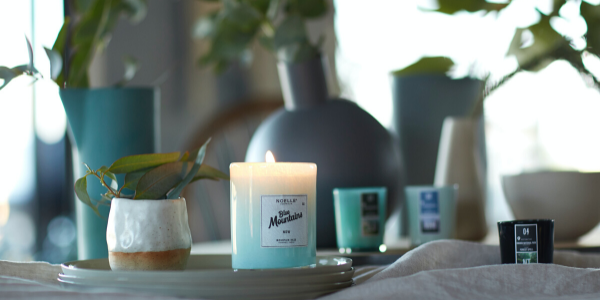 How do home fragrances work?
Depending on the brand of home fragrance you are going for, it's not uncommon for candles and diffusers to have 3 different fragrance types - top notes, mid notes, and base notes. You will find this with perfume too! Top notes are those that you can smell immediately and will usually be the prominent fragrance - if you buy a rose scented diffuser, you will predominantly smell rose. Base notes are the underlying fragrance, which can put the same aromas in different categories. If a rose diffuser has a vanilla or sandalwood base note, it will smell much warmer and woodier, whereas a citrus base note will be fresher and lighter - but both will still smell like rose! Mid notes are in between top and base notes, joining the two together to make a cohesive fragrance. Bear this in mind when choosing your fragrances.
Kitchen
What most call the heart of the home, fragrancing your kitchen can seem a futile job due to the inevitable smells from cooking. However, have you ever had the smell of garlic or spices that you just couldn't shift? Citrusy and herby fragrances are excellent at combating this, which was originally discovered when people would hang oranges and citrus fruits up in their kitchen to get rid of unpleasant smells. Many companies will now do specific "chefs candles," but finding a similar fragrance works just as well. Alternatively, try adding a few cups of orange rind, peel and vanilla into a pan of boiling water and letting it bubble away, you'll marvel at the results!
We recommend...
- Lemon, Verbena
- Basil, Thyme, Mint
- Patchouli
- Citrus fruits - lime, orange, grapefruit
- Ginger
Bedroom
Calming fragrances are imperative if you are going to fragrance your bedroom, and using aromas that induce the feeling or relaxation and sleep are ideal. Lighter florals such as lavender and rose, twinned with creamy fragrances such as vanilla and cinnamon will ensure your bedroom doesn't have an overpowering smell, and will help with sleep rather than hinder it. Additionally, if you are going to fragrance a spare bedroom, it's important to make it inviting, but also use a fragrance that isn't too controversial, as it's likely that more than one person will use this room. Try using fragrances such as fresh cotton or wildflowers.
We recommend...
- Lavender, Rose, Iris
- Fresh Linen, Soft Towels, Cotton
- Elemi, Cinnamon
Hallway
The hallway is the first room that people will encounter when entering your home, so it is important to make it warm and inviting. Try and choose fragrances that spark joy for yourself, whether this be warming wood aromas, or sweet berry accords. You might like to match the vibe of your home to the vibe of your fragrance - is your hallway wood based? Or is it open plan and light? Do you always have flowers in vases or bowls of potpourri around? Matching your fragrances to this can really tie a room together!
We recommend...
- Wild berries
- Vanilla, sandalwood
- Jasmine, Honeysuckle
Bathroom
When fragrancing your bathroom, whether it be an ensuite, family bathroom or cloakroom, using fresh and bright aromas is paramount. Whilst most cleaning products have bearable aromas, they're not always the nicest! Try having a fragrance family that includes a candle, diffuser and room spray based somewhere in the bathroom, and use fragrances such as sea breeze or anything nature/water based, to bring outdoor freshness to the room.
We recommend...
- Seaside, ocean breeze
- Marine accords
- Citrus, pine
Dining Room
Similarly to your entrance hall, fragrancing your dining room will entirely depend on the mood you are portraying through your furnishings. If you are going for the sophisticated look, with oak furniture, wooden flooring and dark furnishings, a statement diffuser with woody top notes such as sandalwood or cedarwood would be perfect. Have a dining room with large windows, plants and lighter furnishings? Try a light floral or fruit aroma that lightens up the room, keeping it fresh. How your work the fragrance around your furnishings will have an impact on the room, but remember that this room will be used for mealtimes, so think about how the intensity may affect the food that you're eating!
Ideal Fragrances
- Sandalwood, cedarwood
- Patchouli
- Oudh
- Floral and citrus
Office
Whether you use your office for work or leisure, using a fragrance that boosts productivity and isn't too intense ensures you are not overpowered and put off by the space. Aromas such as peppermint, eucalyptus and rosemary are fresh and light, and have been proven to benefit productivity. If you fancy something less intense, florals such as lavender and jasmine have the same effect. Alternatively, if you are going for a suave environment, you could go for darker fragrances such as oudh or tobacco to give the feel of an old-worldly office.
We recommend...
- Lavender, jasmine
- Eucalyptus, Peppermint
- Ginger, bergamot, oudh
Tips to remember
- When lighting a candle for the first time, let it melt completely flat on the top, which should take around 3 hours depending on the size of your candle. This will ensure that the candle burns properly and fully each time you light it, rather than just burning a tunnel through the middle.
- Keep the wick of the candle cut short, around 3mm, as this will create a cleaner, less smoky smell when burning.
- Do not put your diffusers near anything warm, such as a radiator, under a lamp or by the window. Heat evaporates the oil quicker, so keeping it somewhere cool will mean it will last longer!