Top Interior Design Trends for 2021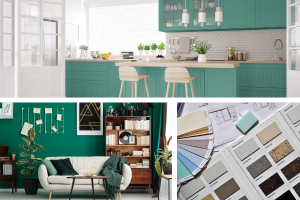 Top Interior Design Trends for 2021
Having spent a lot more time at home in the last year, most of us are focussing a lot more on our interior design, and making our homes comfy, practical, and beautiful places to be. Predicted to be 'in' for 2021 are plenty of trends that make your home into a haven, from focussing on your office space to eco-friendly furniture options. Here are our favourites that you will be able to easily implement into your new build home to create your perfect indoor space.
Colour of the Year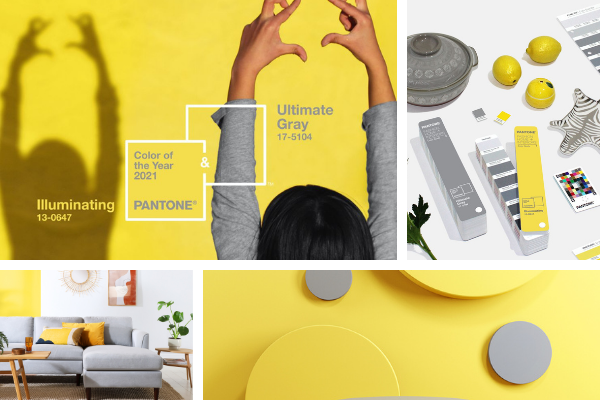 As popular as ever, Pantone's colours of the year - Illuminating and Ultimate Grey - are set to be a big influence on people's interior design choices. For the first time ever, two colours have been chosen, making an easy match for those without an eye for tying colours together. From feature walls to kitchen utensils, scatter cushions to duvet sets, it's a great way to brighten up a space, whilst being a stunning change as we move into spring and summer. Even better if you've already got grey interiors, a classic neutral choice, the colours compliment each other so wonderfully that it's an easy trend to implement.
Not confident in big design changes, such as painting walls or new sofas? Why not start small with a few scatter cushions, invest in some wall prints, or a simple throw! Even the smallest addition can make a big impact to your space.
Cottagecore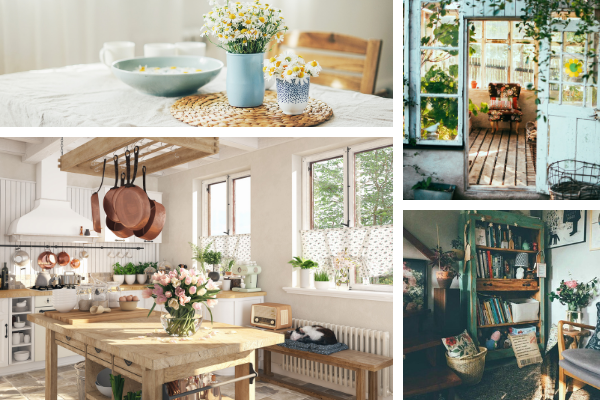 Made popular by social media, namely Instagram and TikTok, and one of the biggest trends to lift off during lockdown, Cottagecore is an aesthetic inspired by a romanticized interpretation of agricultural life. Think of wildflowers, home-baking and being at one with nature, and put that into your interior design, and you are likely to come out with a cottagecore feel. As well as creating a calm and relaxing atmosphere to your home, it can also make your home more sustainable, eco-friendly and give it a vintage vibe - another trend likely to take off in 2021.
Give your space a cottagecore makeover by adding wildflowers or houseplants to each room - you could even take up a hobby and be more eco-friendly by growing them yourself! You could start a collection of vintage tableware and china (charity shops are perfect for this) and put it on display, or deck out each room with checked and floral fabrics, from curtains to table cloths. For more expensive additions if you're willing to splurge, add furniture items such as a farmhouse kitchen table, rustic dresser or clawfoot bathtub.
DIY Feature Walls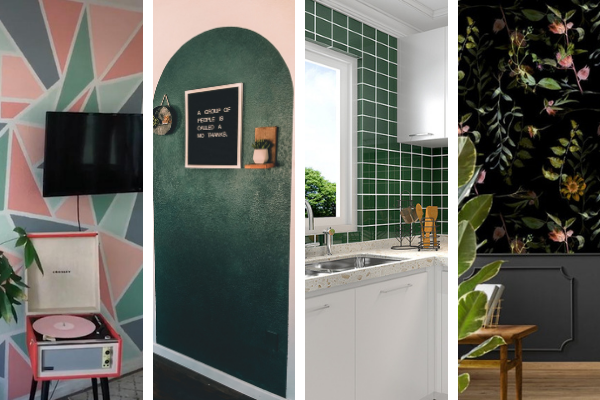 Another trend made popular by TikTok as we were told to "stay at home", an easy way to save money is to create your own feature walls to brighten up your home. Whether you prefer paint, tiles, or wallpaper, it's an easy way to make a space "pop" with vibrancy and highlight your favourite spaces. The relative inexpensiveness also means if you are partial to regularly switching up your interior design, it's an easy change without spending a lot of money, especially if you're using paint.
Gone are the days of hiring a decorator - the increase in popularity of DIY decorating has increased the availability and variety of self-adhesive wallpaper. No need to hire a tiler, when self-adhesive tiles are readily available, and super simple to use, meaning you can switch-up the design of your kitchen and bathroom with ease! Why not get some masking tape and a collection of paints and create your own geometric feature wall, perfect for any room. Head straight to Youtube or Tiktok to find inspiration!
Working From Home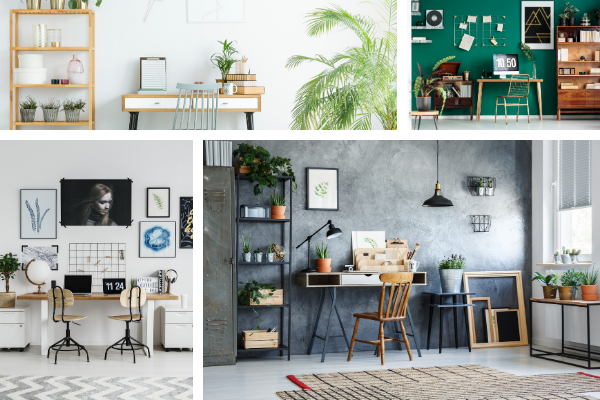 Having been working from home for the best part of a year, many are likely to continue to do so for the foreseeable future, with some businesses likely to adopt a culture of working part time at home, and part time in office. With spending so much time at a desk, making your office a featured space in the home will be a growing trend of 2021.
Rather than tucking your work space away in a small corner, the little space you have left in the sitting room, or just a laptop on the sofa, why not flaunt your workspace so it's an enjoyable place to be, not an uncomfortable area that leads to loss of motivation. As well as having a proper desk, add plants, pictures, and plenty of light, sure to keep you working positively, and making a beautiful area to be proud of.
Read our blog about creating a positive "working from home" space here.
Oceans, Shores and Navy Colours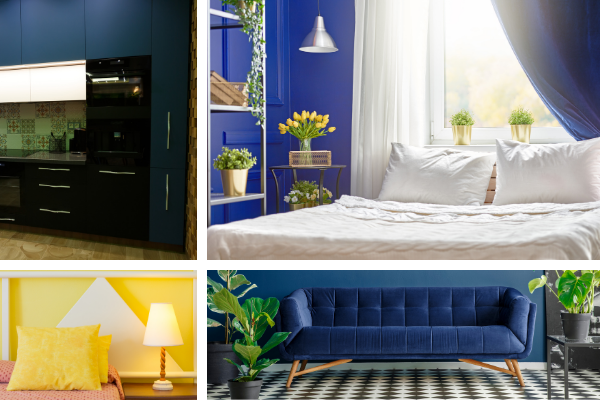 Yellow is in again, where oceanic and hawaiian designs will gain popularity this year. Despite being bright and summery, these colours look beautiful in any season, therefore perfect for your new home. Navy blues, subtle beach vibes and dark hues will contribute to the holiday feel that we've all been missing. As well as block colours, tropical prints should also be used around the home, creating a warmth and cosiness, as well as bringing the outside in.
We're all ready for a holiday, so why not bring the holiday home? You could match your home fragrance to your interior design, with oceanic candles and sea-scented room spray. Wall prints of your favourite holiday destinations can also make an appearance, whether it's near the coast or not!
Read our home fragrance blog here.
Maximalism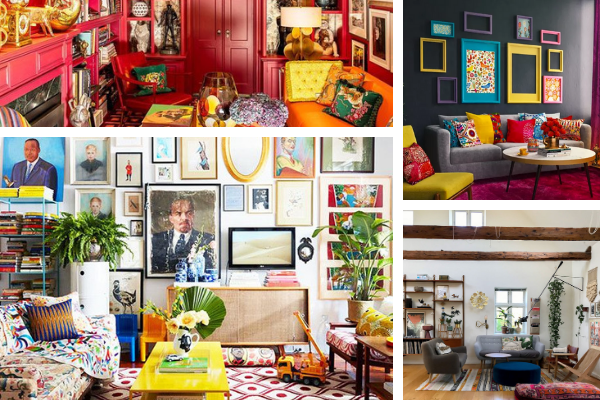 Minimalism is out! What some may see as clutter, others see as an expression of everything we love about the home, and why keep it simple when you can put your personality into every room.
There's no such thing as too much with maximalism - cover your couches in throws and cushions, put prints and pictures all over your walls, fill every room with all sorts of plants and more. A real benefit of maximalism is that it doesn't matter what colours you use, how many patterns you use, or whether it matches - it's going to all look stunning when put together. Whereas maximalism isn't for everyone, especially those who prefer bare spaces, you could make subtle additions to your home, such as starting with your walls and keeping your work and table-tops clear.
You can read our blog on easy to grow houseplants here.
All Things Green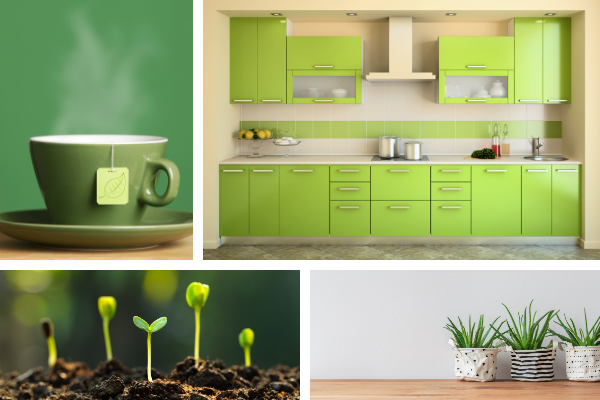 As well as the colour, and we love the green colour palette, developing more eco-friendly and sustainable homes will take off this year, and keep growing for years to come.
There are hundreds of ways to create a green home, far from just painting your kitchen cabinets. We all love adding plants into the home, and it's definitely a design choice that won't go out of season, and there are plenty of plants that are great at cleaning the air in your home, which is great for the environment. Do you have a garden but not quite sure what to do with it? Why not make it a haven for butterflies and bees by planting patches of wildflowers. Investing in a compost bin for food waste and other compostable items for a more sustainable home, and to add to your flower beds for a homemade fertiliser! Another way to use your outside space and lower your carbon footprint could be to grow your own veg - not just an easy and fun hobby, but great for the home.
You will find that many people are moving away from buying brand new furniture, and turning to online marketplaces and charity shops to furnish their home instead- a much more sustainable, and cheaper option. You could find your perfect item, or even start refurbishing what you find with a lick of paint. Want to go bigger? If you're willing to make the move into a super eco-friendly home, why not look into getting solar panels!
As well as adding in the colour green, look into how you can create a more eco-friendly home!