Jumping Up The Ladder With Help to Buy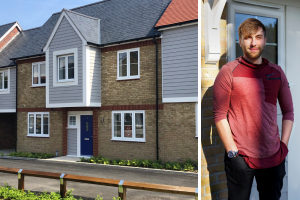 Jumping Up The Ladder With Help to Buy
Moving from shared rental accommodation to owning a three-bedroom semi-detached house could seem like an impossible dream for a first-time buyer. Through Help to Buy, this has become a reality for Alex Stokoe, a financial controller working in Mayfair.

"I've gone from living with four lads to having my own space in which I can do whatever I like," says Alex. "It was a great time but I'm really looking forward to the small things like cooking for myself and just chilling out in the evening."

Alex originally lived in the Isle of Man and has spent the last few years renting in central areas of London. "I started the job I'm in about five months ago and really thought it was time to stop wasting cash on rent. Although I work in London, I was happy to move out providing the travel connections were good. I could have probably afforded to get on the ladder without Help to Buy but definitely not to the standard of accommodation that I have now. I looked at some older properties but I felt that it was a risk because there could be issues with damp or other work requiring a lot of cash. With new build, you get a warranty so a lot of this worry has been removed."

Once Alex had settled on a new build, he visited quite a few developments but wasn't keen on the size and scale of them. "I knew I wanted a three-bedroom property because my girlfriend will probably move in soon," says Alex. "The plan is to stay at least five years so if we want to start a family, we also have the space. But a lot of the developments we visited were huge and wouldn't be finished for a number of years, so if we do decide to sell, it will be harder to compete with the brand new property on the same development."

Award-winning developer Higgins Homes is skilled in creating boutique developments. When Alex visited Parva Green in Broomfield Village just outside Chelmsford, featuring 27 two, three and four bedroom houses, he knew almost instantly that it was going to be a good fit.

"I plan to cycle to the station to get the train to London but when the weather is horrible, I needed to know there are other transport options available," says Alex. "There are busses that go to the station at Chelmsford just a short walk from Parva Green and there are regular trains going directly to Liverpool Street."

When Alex and his girlfriend Sarah visited Parva Green, there was a good choice of three-bedroom properties for them to view. "We settled on our house quite quickly for a number of reasons," says Alex. "It has a big garden and Sarah has lots of pets; rabbits, guinea pigs and cats, so she was particularly keen. The position was perfect too; quiet with nice views. Inside, the home will adapt to our needs; it's great to have a kitchen that gives us plenty of space to cook and the interior design has been done so well with double doors opening to the lounge to create lots of space and light."

As a first-time buyer, Alex was unsure of how stressful the process would be. "I know people who put in an offer before me and they still haven't got the keys," he says. "I didn't really know what to expect but it really has been a very straightforward transaction. Help to Buy didn't cause any issues and dealing with Higgins Homes has been excellent right from the start. Debbie from Higgins has been fantastic with communicating with me and the legal departments, which I think stopped any problems from spiraling."

With Sarah already owning her own property, Alex was delighted that he was able to afford to buy on his own too and feels that financially it has put the couple in a very strong position. The house is totally to their taste so apart from sorting the broadband, buying a sofa and some other interior touches, all that's left is for them to explore the area. "I'm going to join the cycling club and I have a few friends that play for Essex Cricket Club so I'm looking forward to finding out more about the area. The shops and night life look good, with plenty of restaurants and pubs, so I'm not at all sad to be leaving London because the atmosphere here is great."

Parva Green is a small boutique development of three and four bedroom houses with prices starting at £430,000. Register your interest in Parva Green.