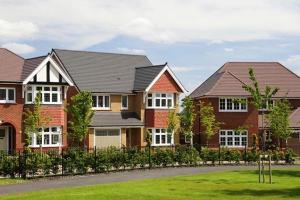 Exeter Property Prices
by Gemma Moyce
September 28th, 2018
Homebuyers are cottoning on to Exeter's appeal, and as such, house prices are on the rise. Here's more information about the city's property prices over the last five years.

Exeter's Property Market – A Five Year History

2012.

From the start of the 21st century, Exeter's popularity had been steadily growing, thanks largely to the regeneration of the Princesshay precinct, which saw a dated 1950s shopping centre transformed into a large, modern retail hub. This, combined with all the other local attractions, meant that property prices were healthy.

2013.

In 2013, Exeter's house prices didn't see much movement. The cost of an average property in the UK rose by over £7,000, whereas Exeter's prices remained much the same as the previous year. However, houses were still more expensive than the national average.

2014.

2014 was when Exeter's property market started to really pick up. According to figures taken from the Land Registry, the average house price in November 2014 went up to £217,981 – an increase of over £15,000 compared to the year before. The rise was in-line with the rest of the country, which saw very similar average price increases.

2015.

This year, prices started to climb rapidly across the country. From 2014 to 2015 (November), average house prices rose by around £13,000 – and Exeter's price increases almost exactly mirrored this figure, rising to £230,322.

2016.

Property values continued to climb in almost all parts of the UK, and Exeter was no exception. Again, the city's house prices rose in tandem with the national average, climbing by around £12,000, slightly less than the previous year.

2017.

To date, Exeter's property market seems to be performing slightly less strongly than the national average, with properties around £10,000 higher than last year (the country's average price rise is currently around £12,000). However, it's still strong growth, and demonstrates the city's continuing desirability.

What Does the Future Have in Store for Exeter?

Significant regeneration started in the city ten years ago, and looks set to continue. There are currently other major redevelopment works being undertaken, around the bus and coach station. The Guildhall regeneration programme is also nearly complete, with several major restaurants now in situ, and many more businesses likely to move into the area.

All of this is highly positive for prospective investors, not to mention homebuyers looking for somewhere upcoming to live. Given that the works are still in progress, it's probable that property prices will continue to grow in the future, making it a wise idea to think about investing in Exeter property sooner, rather than later.

There are several excellent new build developments in and around Exeter, offering homebuyers proximity to the city centre, without compromising on space or convenience.