Staying Positive at Home During Isolation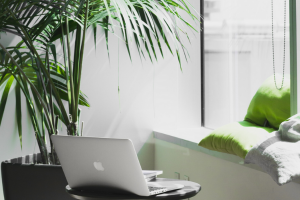 Staying Positive at Home During Isolation
Being in isolation can be a real detriment to our well-being, where being cooped up inside can make us feel gloomy and unproductive. This can be especially difficult for people living on their own, where distancing from family and friends can mean we become lonely and detached, and even with family it can make you feel separated from the rest of the world.

Whether you are working from home, or trying to make good use of the extra time, it's vital to find ways to stay positive. Now more than ever, it is important to keep your physical and mental well being in check, and asking yourself whether you are doing the right thing for your body and mind.

Here are our top tips, suggested by you, for staying positive and keeping your well-being in check during isolation.


Eat Well and Stay Hydrated

Are you drinking 8 cups a day? Well you should be! Not only does drinking water help balance your mood and prevent headaches, it's also great for the skin, and of course, necessary for a healthy mind and body. Remember, tea and squash count too! Making sure you're getting the food and nutrients you need contributes hugely to a positive state of mind. If you're working from home, try and get foods that boost brain power like nuts or fish, as well as treats for those relaxing movie nights - chocolate may just be the thing your body needs!

Keep Active

You don't have to go on a 10 mile jog everyday, but 15 minutes of yoga, a brisk walk around your local area (stay distanced!) or an online workout video are brilliant ways to keep moving. Especially important if you are working, it helps keep the mind focussed and your energy levels up, meaning you are more productive!

Get Creative

Having time to spare means you can finally start that hobby you've been talking about for so long! Whether it's knitting or a puzzle, there's plenty of videos online to get you started. Being creative can help focus the mind, and can be as good as meditation for calming and relaxation. A creative flow has been proven to boost happiness, and seeing the end result releases a boost of dopamine, a chemical that's linked to happiness and motivation.

Stay Connected

You might not be able to see family, friends or significant others at this time, so try and stay connected online. Whether it's Facebook, Zoom or an old fashioned phone call, don't lose touch! Try pairing a video chat with an online game or watch party.

Create a Productive Environment

Working from home? There's no chance that you're going to be productive whilst lying in bed! Spaces for relaxation like your bed or sofa should not be used for work spaces as it becomes something you associate with work. Even if you don't have an office, set up a table that gets lots of natural light in an open area. Add a plant if you can, and keep the space clean and clear of clutter. Watch your productivity soar!

Keep Entertained

You don't always have to be productive during isolation, and it's important to do things for yourself and relax. If you have a garden, why not try planting something exciting and watch it grow over the coming weeks, or learn how to bake bread! There's more TV, film, music and live-streaming than ever before, so why not try and find something new!

Relax!

Most importantly, you need to relax! This is a stressful time for everyone, so it's vital that you find time to unwind. It can be easier said than done, but find something you enjoy to take you away from negative surroundings.


Quarantine has caused a very strange situation for us all. It's important to take these tips with a pinch of salt, and find something that works for you. Remember, you're not trapped at home, you're safe at home.