Higgins Homes - Supporting Customers Through The Pandemic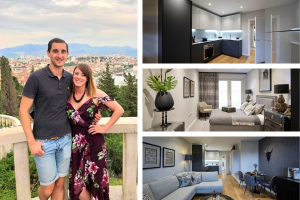 Higgins Homes - Supporting Customers Through The Pandemic
A cancelled wedding due to the coronavirus outbreak could be a cause for heart break but for Katie and Alex, they turned the situation into something much more positive.

Katie, a project manager for an investment bank, and Alex, an analyst for Avanti West Coast, were due to get married in May. When the lockdown hit, the couple quickly realised that this would be very unlikely.

"Our initial plan was to get married in May and then start to look for somewhere to buy later on in the year," says Katie. "We realised that our wedding would have to be postponed and it was actually on one of our daily walks around the area where we saw billboards up for housing developments that we made a plan to try and buy a property now that we had time on our hands to do more research."

The couple had been renting in Stratford for the last four years and have come to really love the East Village area. "There were a few different developers that we discovered within the area where we wanted to buy. So we decided to dip our toes in the water and started to do lots of research online and called developers up to discuss our options," explains Katie. "We found the Higgins Homes website to be really detailed and enabled us to learn a lot very quickly. We then spoke to the sales advisor Cheri who was great at answering our initial questions, introducing us to Help to Buy and then putting us in touch with a mortgage broker and a solicitor."

Alex goes on to explain that after their initial research, they were then able to visit New Stratford Works, while adhering to the social distancing restrictions. "I've heard a lot of nightmare stories about buying a property, and in this current climate you would assume it would be even harder," explains Alex. "But the process has been really streamlined and pretty much stress-free."

Once they visited New Stratford Works, they were shown a three-bedroom apartment that was in their price range, a possibility that was just too good for them to turn down. "After the disappointment of having our wedding cancelled, we really wanted to move into a new home this year or very early next year so we could move on with the next stage in our lives," says Katie. "Finding a three-bedroom flat was perfect because it allows us to grow our family over time."

In terms of location, New Stratford Works also fulfilled their requirements. "We have the Olympic Park on our doorstep, cinemas, Westfield shopping centre, lots of lovely independent coffee shops and restaurants and really good transport links," says Alex. "Within the East Village area, some developments are a good 15 minutes' walk to the train station but New Stratford Works is just a five minute stroll."

Originally from Sheffield, Katie also enjoys the green space. "It doesn't really feel like you are in central London at all. It's very green and peaceful but with the benefit of having lots of lovely places to enjoy brunch, which is something we regularly like to do."

Higgins Homes has worked hard to provide an urban sanctuary at New Stratford Works by creating a Linear Park as part of the development allowing all residents to have open space on their doorstep. The park is bursting will all manner of trees and foliage and is the perfect spot to relax and get back to nature providing a healthy and relaxing home environment.

The couple are currently renting a one-bedroom flat and are really looking forward to finally making a home for themselves. "After ten years of renting, it is the small things that we are most excited about," says Katie. "Finally being able to choose how to decorate and furnish our home feels like such a luxury and we are really looking forward to getting a corner sofa, something that we have wanted for the longest time."

In terms of finance, the Help to Buy scheme has been revolutionary and their fears over obtaining a mortgage have been put to rest. "We were naturally curious and a bit worried about whether we would get a mortgage during this pandemic," says Katie. "We had heard about banks cutting back on their mortgage offering, which did concern us. However, our mortgage advisor through Higgins Homes has been really reassuring and he walked us through one step at a time. In London, as first time buyers, the Help to Buy is something that we definitely needed and it has given us so much more choice in terms of what we can buy."

In fact, the couple are really looking forward to upgrading to a larger space as Alex concludes: "We are going from a one-bedroom flat to a three-bedroom apartment and our monthly outgoings are going to stay the same."

New Stratford Works offers a collection of 154 homes featuring one-, two- and three-bedroom apartments and three- and four-bedroom Garden and Sky Villas. Current prices for three-bedroom, two-bathroom apartment with private balcony start at £691,500. To speak to the sales advisors, arrange a virtual tour or learn more about Help to Buy, contact the team today.