10 common features of modern new builds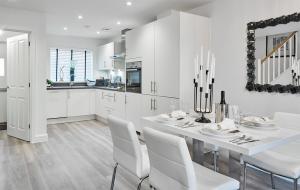 10 common features of modern new builds
When you buy a new build home, there are features you can expect to have included. You may get some of these features when you buy an older property, but you are unlikely to get them all. Here are 10 of the most common features you can expect when you purchase a modern new build home.
It's a Blank Canvas
You will take ownership of the home as a blank canvas. As a result, you can decorate it according to your exact tastes. Also, you can decorate without first having to carry out repairs. The walls, for example, will be perfectly smooth and ready to decorate on day one.
10-Year Warranty
Your new build home will usually come with a 10-year warranty. This will give you peace of mind that you won't have to pay for major structural repairs during this period.
This feature is one that rarely, if ever, exists when you buy an existing property. With an existing property, you are liable for all repairs from the day you take ownership.
Built to the Latest Standards
Older homes will have been built to the building standards and safety regulations of the time. In some cases, owners can upgrade elements of the home to a more modern standard, but older homes are rarely fully compliant with all the latest standards and regulations.
New build homes, on the other hand, must pass building control inspections. This means building the home to the latest standards. You benefit from this as the property will be safer, greener, and more structurally sound.
Energy Efficient
Following on from the last point, energy efficiency standards have improved significantly over the years. As a result, homes built today are up to 65% more energy efficient than an older house. This helps to protect the environment plus it can mean savings of hundreds of pounds on your heating bills throughout the year.
Modern Kitchen
A new build home will have a modern, brand new fitted kitchen. You may get this in some older properties, particularly those that have been recently renovated. In most cases, however, you have to live with the old kitchen or pay to get a new one. A new build home is the only type of property you are guaranteed to get new, modern kitchen.
Modern Bathroom
The same applies to the bathroom as above. The bathroom/s in a new build home will be modern and brand new.
High-Quality Insulation
One of the energy efficiency features of new build homes is high-quality insulation. In older properties, there may be very little insulation. Even where there is insulation, it may not be good quality. The quality of insulation in new build homes, however, is one of the key selling points.
Double Glazing
You are also likely to find double glazing in all the windows and external doors of a new build house. This not only makes it more comfortable, it lowers your heating costs.
More Plug Sockets
Many older homes were built at a time when we didn't use as many electrical devices as we do now. Also, the internet as we know it today may not have existed. In a modern new build, however, the quantity and placement of power sockets suits modern living. You are also likely to get data sockets for computer equipment, smart TVs, and more.
More Effective Room Design
Finally, modern new builds will make good use of space as well as having bright and airy rooms.
If you want all the features above, a new build home is the way to go.