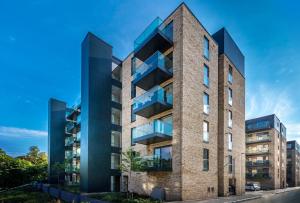 The Top Five Reasons to Live in Glasgow
If you're looking for a new build property in Glasgow, and want to find out more about why it's such a great place to live, read on.

Why is Glasgow a Fantastic Place to Call Home?

You'll get more for your money.

Considering everything that Glasgow has to offer its residents, it's remarkably cheap. According to a recent study, average living costs in the city were 20% less than London, and 10% less than the rest of the UK; yet average salaries compare favourably to other parts of the country. Quite simply, if you purchase a new build home in Glasgow, you'll get a lot more for your cash, and you'll enjoy a good standard of living too.

It's got some amazing museums and galleries.

Glasgow is celebrated for its impressive collection of art galleries and museums. The Burrell Collection and the Kelvingrove Art Gallery and Museum are among the most renowned, and there's also the Glasgow Science Centre (which has lots of hands-on activities for kids), and the Riverside Museum. If you're fond of Art Deco paintings and furniture, you might also want to explore Charles Rennie Mackintosh's home too.

There's plenty of parks to enjoy.

Glasgow may be a city, but that doesn't mean it's not a haven of green spaces. In fact, one of its nicknames is 'dear green space', on account of the sheer number of parks in the area. Glasgow Green is a particularly pleasant place, and is home to the People's Palace and Winter Gardens, and the Glasgow Necropolis is also well worth a visit.

It offers a great night out.

If you're out for an evening in Glasgow, you'll be spoilt for choice in terms of things to see and do. The UNESCO City of Music has some great music venues, which host around 130 events each week. If you're looking for personality-filled bars and great restaurants, Glasgow's West End is the place to visit, or alternatively, visit one of the city's gourmet eateries, such as Two Fat Ladies or Café Gandolfini.

Great range of houses.

Glasgow's property market is booming at the moment, as the city has been steadily increasing in popularity for the last few years. As such, there's a wide range of properties available, including some excellent new build houses, which offer generous dimensions, gardens and driveways. Some of the country's best developers operate in the city, such as David Wilson Homes, Barrett Homes and Persimmon, which is a sure sign of quality.

When Should You Move?

Prices are rising steadily in the area, though thankfully, they're still incredibly reasonable, especially when compared to other parts of the UK. As such, we'd recommend searching for your new build home in Glasgow as soon as possible, before property values start to sky-rocket.