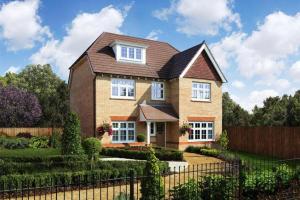 What are the Main Factors Affecting New House Prices in Swindon?
Swindon is not only a great place to live; it's also offering investors excellent returns in terms of capital growth. Property prices are set to soar further in the future, and as a result, buying as soon as possible is a wise move. Here's some more information about the rising prices, and what's driving them upwards.
What's Causing New Build Property Prices in Swindon to Rise?
According to local estate agents, property values have risen dramatically in the last couple of years; in some cases, as much as five times more than the average rate of salary increase (ONS data). Two- and three-bedroomed properties are proving particularly popular, and new build houses seldom stay on the market for long.
Pushing Prices Up
Regeneration
Swindon has been transformed in the last few years, particularly in the town centre, where several retail zones have been brought firmly into the 21st century. New leisure facilities were also introduced, and the station (plus the surrounding area) is scheduled for a major overhaul in the near future.
Great Location
Swindon is in a really convenient location, particularly for London commuters who want to escape the rat-race and live somewhere more rural. It's only 45 minutes from Swindon to London Paddington, and trains also run to Portsmouth, Bristol, Swansea and many other places. There are also two airports close by (Bristol and Gloucester), which have flights to a wide range of national and international destinations.
Family Appeal
The town has a lot to offer families with children, which is having impact on demand for spacious new build homes. There are several excellent schools in the area, such as Royal Wootton Basset Academy, which was recently awarded 'outstanding' at Ofsted, and Moredon Primary and Catherine Wayte Primary Schools (also 'outstanding'). Likewise, there are lots of activities and attractions in the vicinity, including the Great Western Railway Museum and Wroughton Science Centre.
Natural Beauty
Swindon has an idyllic location, between the scenic Cotswold Hills and the Marlborough Downs. There are also numerous quaint villages surrounding it, which makes the area perfect for nature-lovers and hikers alike. With increasing numbers of people moving from London and out into the surrounding area, it's easy to see why its natural beauty would appeal to worn-out city-workers.
What Are Prices Like Now?
Although new build property prices have been rising steadily in recent years, they're still far more affordable than other locations in the UK; which makes Swindon an especially appealing option.
However, it looks likely that prices will continue to rise, which means it's worth exploring your options sooner rather than later. There are several excellent new build developments in and around Swindon, built by developers such as Redrow, Linden Homes and Barrett Homes, so the good news is, there are plenty of new homes to choose from.