What is affordable housing?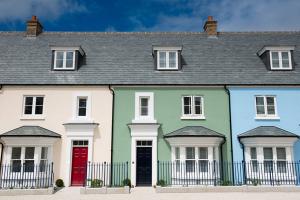 What is affordable housing?
Affordable Housing does not necessarily mean "housing that is affordable". Find out everything you need to know about this type of housing so you can make the right decision.
Social Rented Housing
Social rented housing or social rented accommodation tends to be what the majority of council or housing association tenants are living in. Rent for these properties is typically charged at anywhere between 40% and 60% of the average rents found in the local area. The idea behind social rented housing is to allow people to live and work without being dependent upon housing benefit.
These rents are the lowest available and are set by the government.
However, the majority of new build affordable homes are now either affordable rent housing or intermediate housing so make sure you know the difference.
Affordable Rent Housing
Affordable rent housing charges up to 80% of the normal market rent. These tenancies tend to be fixed term and temporary. Affordable rent housing is therefore more expensive than traditional social rent housing however, the additional income made from increasing rents to up to 80% of the market value will be used to fund building new homes.
The majority of affordable rent housing is owned and let by housing associations and the homes are managed and maintained in the same way as social rented housing. You can still claim housing benefit to assist with paying the rent on this type of home.
Intermediate Housing
Intermediate housing offers people with lower incomes an opportunity to get their foot on to the property ladder. There are various methods that accommodate this such as the shared ownership model (Homebuy), shared equity, Help-to-Buy, FirstBuy and Low Cost Housing for Sale schemes.
So while all three types of affordable housing defined by the government take advantage of reduced rents and housing schemes like shared ownership, depending on your financial situation or where you are looking to live, this may still not fall into what is personally affordable for you so it's important you work out what YOU can afford before taking the plunge.
Who is eligible for affordable housing?
The key word there is "eligible". Affordable housing is only available to individuals deemed eligible. Those eligibility requirements could include:
Whether or not you can afford to buy or rent housing supplied by the private sector
Whether or not you have demonstrable housing need such as those living in poor, unsafe and overcrowded conditions
People have been deemed ineligible if they have:
Not got permission to stay or live in the UK
Have previously breached a tenancy
Have not lived in the area for long enough
Have members in the household guilty of unacceptable behaviour
Housing allocation is set per local authority however they are legally required to give the following groups "reasonable preference":
People classified as homeless or under threat of becoming homeless
People living in unsatisfactory housing
People who are required to move for welfare or medical reasons
*eligibility differs from council to council and is largely based on a qualitative assessment of an individuals' needs.
Who provides affordable housing?
Around half of the affordable housing stock in the UK is made up of new build properties, many of which are built by private homebuilders. Housing associations are also responsible for building new affordable housing as well as managing existing properties qualifying as affordable housing.
Affordable Housing for the Future
Today's government is making housing the forefront of the political manifesto and are implementing key plans to tackle the housing crisis. The government has already promised to build 275,000 affordable homes by 2020 and the Conservatives flagship Right to Buy (RTB) scheme has been extended to make it easier for housing association tenants to buy their homes.
Useful links relevant to affordable housing
Affordable Housing is regulated by the Homes & Communities Agency otherwise known as HCA.
You can find details of the housing association application process for a home just here on the Government website.
Shelter offer a huge array of advice on housing and the related issues.
To clarify, because the issue of what's affordable differs from person to person and situation to situation, affordable housing is not defined by the individual, instead it is defined by the type or tenure of the property.
In this sense, affordable housing is defined by the government as either "social rented, affordable rented or intermediate housing provided to specified, eligible households, whose needs are not met by the market".