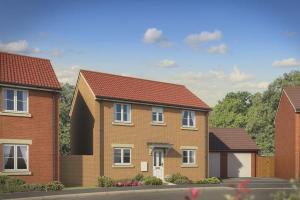 Why are New Homes Being Built in Swindon?
If you're unfamiliar with Swindon and want to know more about its growing popularity, here's a quick guide, detailing why it's becoming so popular with property developers.

Why Swindon?

Once a small market town, Swindon has grown to become a bustling location, full of things to see and do for people of all ages. It's hardly surprising that so many people want to move into the area. These are some of the key reasons why Swindon is such a great place to buy a new build home.

Swindon's town centre.

The town centre is pedestrianised, which makes for a more relaxing shopping experience; and its covered retail precincts are great to explore, whatever the weather. In addition to the high street shops and independent boutiques, there are also several markets on throughout the year.

Regeneration.

Swindon has undergone significant regeneration in recent years, both within the town centre and further afield. This has brought new leisure facilities to the area, not to mention new retail outlets. The station and surrounding area is also scheduled for major improvement within the next few years.

Good location.

Swindon is well connected to many parts of the UK, including Bristol, Swansea, Cheltenham and Portsmouth (by train). It takes approximately an hour to reach London Paddington – a fact that hasn't escaped commuters looking to move away from the capital. Additionally, Gloucester airport and Bristol airport are both fairly close (41 miles and 49 miles respectively), offering residents easy access to a range of international locations.

Excellent schools.

Developers have noticed particular demand from families looking to move to Swindon, and given how many great schools there are, it's not hard to see why. Several primary schools (notably Moredon Primary and Catherine Wayte Primary) were rated 'outstanding' in their recent Ofsted reports, as was Royal Wootton Basset Academy.

Things to do.

There are several great attractions in the area, such as Wroughton Science Museum and Jungle Parc (just outside Swindon) and the Great Western Railway Museum. Additionally, the town centre has plenty of highly regarded restaurants and pubs, such as Los Gatos (serving tapas) and Helen Browning's Chop House (organic meats with a variety of gins and bourbon to accompany).

Why Are the New Build Homes So Desirable?

Swindon's new build properties are in high demand, due to the growing popularity of the town. There are a lot of advantages to purchasing a newly built home instead of an older property, especially when the house has been constructed by a well-regarded developer. There's no chain involved, plus new properties have far fewer issues to contend with.

Several top developers are operating in Swindon, such as Redrow, Bovis Homes, Linden Homes and Barrett Homes, with new build properties in great locations. It's worthwhile browsing what's available before prices rise further.