Working From Home - Our Top Tips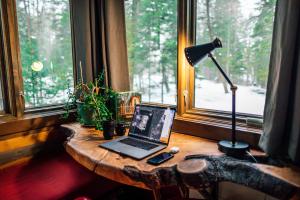 Working From Home - Our Top Tips
Planning to work from home? Not planning but it's been thrust upon you anyway? It may seem like a luxury at first - rolling out of bed, setting up in your dressing gown and having all your home comforts around you - excellent, until rolling out of bed becomes struggling to get up, and you've found yourself in a creative lull with nothing around to offer inspiration.

This is where it becomes more and more difficult to be productive, and you need to put things in place to make sure you are getting the job done whilst out of your usual surroundings. Most importantly, you need to find things that work for you.

Here are a selection of our top tips to maximise productivity and keep on track.


Make a permanent work space

Make a permanent work space that mirrors your usual office space, with a similar set up and look. Having your computer, notes and stationery in one place means your brain associates this place with getting work done. Whether it is a spare bedroom, part of your kitchen or a corner in a living room, make sure this space is clear of clutter, gets plenty of light, and you don't use the space for anything else. It becomes your own mini away-from-the-office office!


Get dressed

You associate pyjamas with going to sleep and being comfy and cosy, so why would these create a productive mindset when working? Getting dressed and mirroring your usual morning routine helps you get into the mindset of work, whilst also keeping you day flowing as it usually would - staying in pyjamas can mean the day all melds into one long timeframe rather than splitting up into work and leisure. A full suit is likely unnecessary, but clothes you would leave the house in will put you in a working frame of mind, and you're more likely to start the day in a positive way.


Be comfortable

You are very unlikely to get the best work done if you're sitting on that uncomfortable spare stool, or the dining table chair that's barely comfortable enough for dinner. Taking into account how long you are going to be working from home for, you might need to invest in some comfortable office furniture, such as a proper chair that ensures you keep a decent posture. Comfort also comes into the desk you are using, and making sure your computer, if you are using one, is at the right height and angle whilst you are working. There can be some serious long term effects on your physical health if you are uncomfortable whilst working.


Keep to your work hours

You might be tempted to spend that extra 45 minutes in bed, power through lunch to get that report written or work that extra hour to ensure your to-do list gets completed. However, developing a healthy work schedule ensures that you are not overworking yourself so much that you end up burning out, and also taking enough time to get as much done as you can. Having a lunch break gives your brain and body some respite so that your afternoon starts fresh, and shutting down at the end of the day is important for your working mind, your mental health and physical health.


Make to-do lists

It's likely that you will do this anyway, but writing out daily and weekly lists of your tasks keeps you on track with what you have to do, and ensures you don't fall behind on your roles and responsibilities. Try splitting up your lists into "to-do today," "to-do this week" and "to-do this month," or list them from most important to least important. This way, your tasks are prioritised, but nothing gets missed or forgotten. Remember - you can never have too many lists!


Exercise / Stretch Often

Exercise boosts endorphins which can make you happier and more productive. Try and spend some of your lunchtime taking a walk, or get up and stretch & walk around the house or garden - tidying up or gardening can be a great way to do this! Either way, sitting at your desk for 8 hours a day is not good for your body or your mind, and your work may suffer because of this.


Eat good food

Brain power is key! Make sure you keep your concentration up by having a proper breakfast and lunch, keeping you focussed and positive and making sure your brain is getting the nutrients it needs to work properly. Try having foods that boost concentration such as blueberries, oily fish and leafy green vegetables.


Take short breaks

It's impossible for your brain to work at full capacity for 8 constant hours, so it's important that you take short breaks to keep your mind on task and give your brain a rest. Try and vary what you do, whether it's watching a short video, watering the plants or catching up on the news - avoid taking a social media break all the time. Make sure these breaks don't last too long however, as they may completely interrupt your work flow, meaning it's difficult to go straight back to what you were doing.


Check-in with co-workers

If you're used to being in a bustling office with co-workers who you are constantly able to chat and share ideas with, it is important to keep in touch. There are plenty of apps and programs available that allow you to do this, whether it is just through messenger chat or through daily or weekly conference calls. As well as ensuring you are still keeping in contact, you can also use this time to go through your work with others and ensure you still know what is going on in different areas of your business.


There are plenty of other tips out there, but hopefully the above is a good start to successfully working from home. It's likely that you aren't going to be working from home forever, but the above can be a good guide wherever you are working from, to stay productive and make the most of the time you have in or out of the office.