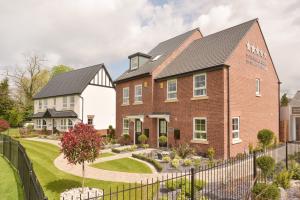 Homebuilder Unveils Three Show Homes at Littleover Development
by Bethany Morgan
July 1st, 2016
The show homes have a particular style which represents a range of homes available to you. The homes you can view is the Finchley three-bedroom house, the three/four bedroom Rochester followed by the impressive four bedroom Alnwick.

The three show homes available give viewers an idea of what life can be like at the new development and see how the houses can be developed with interior design trends. The show homes provide an excellent visual idea to illustrate to the buyers how the houses can be shaped into a perfect home.

We hope that people get tips from our show homes to help inspire them when they buy their homes. Although it is still early developments are proving to be popular.

The location of these new builds falls nicely in the catchment for primary and secondary schools. Also including excellent travel links with roads like the A38 and A50. For more information, click here.