Saving money by downsizing to a new build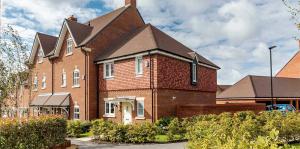 Saving money by downsizing to a new build
If you have a lot of space in your home that you are no longer using, downsizing can result in considerable savings, especially if you downsize to a new build home. Not only are new builds more cost-efficient in many ways, but they offer more benefits than only the financial.

Of course, you will have to factor in some costs. This includes stamp duty as well as solicitor fees and the fees you will need to pay an estate agent to sell your current home. The financial benefits, however, can be considerably more than the costs.

Mortgages and equity

If you own your property outright, downsizing to a new build will free up equity. You can then use that equity as you wish – take the dream holiday you've always wanted, buy a new car, save for your retirement, help your children get a foot on the property ladder, or anything else you want to do.

Downsizing to a new build can also benefit you financially when you still have a mortgage on your existing property. This is because the new mortgage on the smaller house will have lower monthly payments. This is for two reasons:

1. The smaller home will be worth less money
2. You should be able to get a better mortgage deal as you should have a more advantageous loan-to-value ratio

Of course, you may also have the option of keeping your monthly payments the same to reduce the term of your mortgage. This approach will mean you will own your home outright much quicker.

Other financial savings

Freeing up equity or reducing your monthly mortgage payments are not the only financial benefits of downsizing to a new home. The other benefits include:

Lower energy costs

A new build is likely to be more energy efficient than an older property. In addition, it will probably be cheaper to heat simply because it is smaller.

Lower maintenance costs

In a new build, all the fixtures and fittings are new so you are less likely to encounter maintenance issues, particularly in the short to medium term.

Lower insurance costs

You should also see savings on your buildings and contents insurance.

Other benefits

In addition to the financial benefits, there are also other advantages of downsizing to a new build:

Speed of purchase

There is no chain when you buy a new build. This removes a potential hassle to the process of downsizing and can ensure you get the best deal.

More modern style of house

A new home will also be more modern and will have modern fixtures and fittings. This applies to a range of things including the position of appliances in the kitchen, the efficient use of space, the presence of built-in data or phone points, en-suite bathrooms, and more.

Staying in a large house when you don't need the space is not always the best decision to make, particularly if you want to save money. Downsizing to a new build is an option you should consider.