Sustainability features of new homes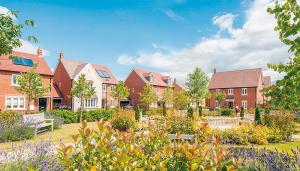 Sustainability features of new homes
The benefits of environmentally friendly features in new build homes include:

• Protects the local environment
• Reduces the use of fossil fuels
• Reduces CO2 emissions
• Lowers energy bills
• Makes homes more comfortable to live in because they are brighter, warmer, etc
• Makes the general area more pleasant through green spaces and more

What are the common environmental and sustainability features you will find in new homes?

Light

The design of new build homes ensures they make the best possible use of natural light. As a result, there is less need for artificial light. This is achieved through the placement and size of windows as well as other design techniques.

Insulation

Insulation is one of the most important parts of making a home energy efficient. With good insulation, heat doesn't escape from the house. Many existing properties have insulation too, but new build homes have modern, high-quality insulation. The objective is to make the house as airtight as possible while also adding efficient and effective ventilation to the home to make it safe and comfortable to live in

Heating Systems

Energy efficient boilers and heating solutions use less energy with no reduction in comfort levels. Timer and thermostat controlled solutions ensure the heating only runs when necessary and doesn't continue to run when the house reaches a comfortable temperature.

Double Glazing

You can expect new build homes to have modern double-glazed windows and doors. This helps to reduce heat loss through glass.

Efficient Fittings

New build homes also have energy efficient fittings such as energy efficient lightbulbs and fittings in the kitchen and bathroom that are water efficient.

Gardens and Communal Spaces

New build housing developers take as much care with the outside space as they do with the homes themselves. This means you will find many new homes have decent gardens. In addition, there are usually green communal spaces and developers often make it a priority to ensure they plant trees and shrubs. This helps to protect the natural habitat of wildlife but it also makes living in the area more enjoyable.

Responsible Building Practices

Good developers take care to use responsibly-sourced building materials in the homes they construct. The recycling of waste produced during the build is also important. In fact, the best developers achieve recycling rates of up to 95 percent. In other words, the sustainability of a home or housing development is not just about the end result – the process of getting there through the construction phase is also important.

Facilitate Environmentally Friendly Forms of Travel

This sustainability feature is not as obvious as good insulation or an energy efficient boiler, but it is still important in making the home environmentally friendly. Many developers take great care in ensuring they make it as easy as possible for people who buy the homes they build to use environmentally friendly forms of travel. This includes, for example, ensuring residents are within walking distance of public transport. Another example is ensuring they build homes that have storage areas for bicycles.

Wildlife Development

Developers also often take specific steps to protect wildlife in the local area. For example, they carry out landscaping in a way that is friendly to bees. Developers may also add features such as nesting sites for birds.

Water Run-Offs

We have highlighted several design features that help make new build homes sustainable – maximising the use of natural light, adding bike storage areas, etc. Another is the way new build housing developers design paved and other landscaped areas in relation to water run-offs. The aim of these designs is to reduce the amount of water running from the homes they build and into watercourses such as streams and rivers.

Additional Features

The features above are examples of what you will find in almost every new build home in the UK. In addition, there are other features you might get in a new build home that makes it even more environmentally friendly. This includes the installation of solar panels or air source heat pumps.

Building new homes in a sustainable way is a key priority for all responsible builders and developers. By buying a new build home, you help to protect the environment, you will save money, and the home and general area will be more comfortable and enjoyable to live in.