Why Buy a New Build?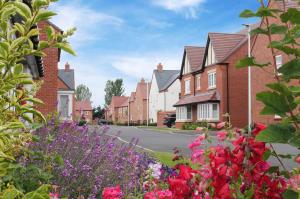 Why Buy a New Build?
By the mid-2020's, the government has set a goal to build 300,000 new homes a year to combat the current housing crisis. Therefore, it's no surprise that we are seeing the exponential growth of new homes being built across the UK. With hundreds of developers building such a huge variety of different homes, there truly is something for everyone, whether you are a first time buyer, family, or looking to downsize. So, what are the benefits of buying a new build over a pre-lived in home?


You can buy off-plan

With many new build properties, you will have the opportunity to buy off-plan, which means you buy before the home is built. As a result, it is likely that you will be able to have a say in some of the design aspects of the property, including larger areas such as bathroom-ware, to smaller details such as door handles and taps! This will really make the home feel like it's yours, with personal touches, even before it's finished. Additionally, buying off-plan can also save you money, as usually the buying price is lower than market value.

It's a blank canvas

What could be more exciting than being able to decorate your home exactly how you wish, without any garish wallpaper or 'interestingly' patterned carpets for you to pull up or strip down beforehand. Having a clean slate is very exciting, and new build homes often make this easier by having neutral walls and carpets, as well as simply-landscaped gardens, all ready for that personal touch. Many will also enjoy that no-one has previously lived in the house, so all kitchen and bathroom amenities are brand new for you! Clean, modern, and fully-functional appliances ensure you don't have to spend that extra money re-doing these rooms.


Low maintenance

When buying a home with a history, it is not unlikely that there will be necessary renovations, such as a new kitchen, plastering the walls, fixing damp or completely redoing the carpets. Buying a new build home means it's all already done for you, saving you lots of money and meaning you can be completely happy as soon as you move in.


You save money on bills

New build properties are all built with modern and contemporary features in mind, meaning they are insulated well and are furnished with energy efficient appliances. This means that you save a lot of money on gas and electricity bills, as well as owning a home that is better for the environment!


Incentives and buying schemes

Wherever you are in the home buying process, but more prominently if you are a first time buyer, house builders will have a huge selection of incentives for you when you are in the process of looking for your new home. This can include having your Stamp Duty paid, getting furniture vouchers, or getting big discounts on the market price. It's vital to shop around to see what you can get for your money - some builders will even offer fully furnished show homes for an excellent price! Make sure you sign up to emails to be the first to know about these special offers.

There are also buying schemes available through these builders and the Government, including Help to Buy and Shared Ownership, which will help you on your way to being able to afford a new home.


Modern living

New technologies are constantly being developed, and many of these are being implemented into new build homes. Features such as Hive or other smart thermostats may already be installed in your new home, which isn't just a fun, modern appliance, but can save you lots of money as you can control your heating and electrical appliances when you aren't home. And what's better than being able to turn the heating on from the office, and come home to a warm and snug house!


Warranties

As well as the individual house builders offering a warranty on your home, usually between 2 and 5 years, many will include an NHBC warranty that will cover the home for 10 years against structural defects. This gives you the peace of mind to go along with any other home and contents insurance that you may have.


As you can see, there is much to consider when choosing whether to buy a new home or a period property. It's important to do your own research, and make sure you know what you want from your new home. There are lots of variables out there, so make sure to shop around so you get exactly what you want, and know what you can get for your money.