Instagram following growing fast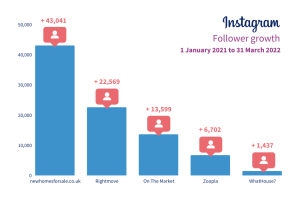 Instagram following growing fast
Since the start of 2021, our Instagram following has grown faster than any other property portal - with more than 43,000 new followers. This takes our total following to more than 68,000, and this continues to grow daily.
Our strong social audience allows developers who list with us to gain more exposure for their developments as part of their listing package.
The newhomesforsale.co.uk Facebook page is also growing at a faster rate than other portals - with an audience of nearly 270,000 across our pages.
Further information about newhomesforsale.co.uk
newhomesforsale.co.uk is a new build only property portal, with a pre-qualified audience of more than 900,000 users specifically looking for a new home. The single-minded approach to the portal allows house builders to target their developments very effectively.
Based in Stratford-upon-Avon, the portal is headed up by Managing Director Vernon Pethard and National Accounts Director Mark Hincks. The company is in a strong period of growth, and sees continual investment in the business in the form of new technology, staff and marketing strategy.
For further information, contact Mark Hincks, National Accounts Director mark@newhomesforsale.co.uk
For all sales enquiries, sales@newhomesforsale.co.uk or call 01789 297005