The 6 Stages Of Buying A Home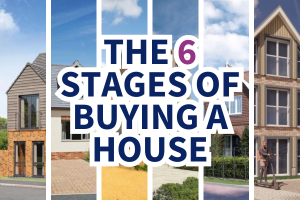 The 6 Stages Of Buying A Home
The homebuying process is made up of six stages, here we take you through them. Here we will guide you through the process of buying your first home, and you'll be opening the front door to your first home sooner than you thought. Here's an overview of the steps you'll need to take to become a homeowner.
Stage 1 - Your Finances
In Stage 1, you'll need to conduct a financial health check, review and improve your credit score and save for your deposit.
Stage 2 - The Mortgage
During Stage 2, you'll review the different types of mortgages, decide which one is best for you, and apply for a Mortgage in Principle, otherwise known as an Agreement in Principle.
Decide how you're going to buy your home:

10% deposit and 90% mortgage
Help to Buy
Shared Ownership
Using the bank of Mum & Dad

Decide which type of mortgage you want
Apply for a Mortgage in Principle
Stage 3 - Find Your Home
When you move into Stage 3, you'll start looking for your perfect home. You should research the market, book viewings and when you find the right one for you, make an offer.
Research the market
Book viewings
Consider what's important to you in a home
Make an offer on a home
Stage 4 - The Buying Process
Once your offer has been accepted, you'll move onto stage four - the buying process. Here you'll instruct your solicitor, secure your mortgage, conduct searches and possibly surveys, then finally, exchange of contracts and completion.
Instruct a conveyancing solicitor
Conduct enquiries and conveyancing searches
Secure your mortgage
Conduct house surveys
Sign the contract
Exchange contracts
Completion
Stage 5 - Moving
In addition to arranging your moving day and whether to use a removal company there's a lot of people you will need to inform, more on this later.
Decide if you're going to use a removal company
Inform all relevant companies of your new address
Consider if you'll need to change doctor practices, dental surgeries etc
Stage 6 - Post-Sale Considerations
Now you are a homeowner - what else could possibly be left to think about? Make sure you evaluate the safety and security of your home - as well as making it energy efficient.
Home safety and security
Smart homes: Technology to help run your home
Make your home energy efficient and more sustainable